For Augsburg PA, the year of 2018 was characterized by significant growth! We grew in all areas, whether it was as a department, incoming cohort or physical space. In this end of year review, we break down all the happenings.
Last May, we welcomed 33 first year students to campus. This increase in admitted students prompted a remodel throughout February and March. With the remodel, classrooms were enlarged, new technology installed and added flexible seating arrangements to promote active learning. Renovations wrapped in early April so that the 2019 cohort enjoyed the space as well!
The cohort of 2020 kicked off the first day of fall semester with a group volunteering event at Feed My Starving Children. Faculty, staff and students packed a total of 15,120 meals within 2 hours. A few weeks later, students attended the White Coat Ceremony where they celebrated moving on to the next chapter of their PA education. We were honored to have Matt Brogan, PA-C deliver the keynote address. Matt directs the Interventional Radiology PA rotation at the University of Minnesota. After the ceremony, students mingled with staff, faculty, family and friends.

---
In November, the program celebrated the twenty-second graduation class. Every year the graduating class nominates individuals to be the Guest Commencement Speaker, Student Commencement Speaker and Preceptor of the Year. Amy Gerlach, PA-C of Fairview Columbia Heights Clinic, was awarded Preceptor of the Year. Amy has been a preceptor with our program for over 5 years and continues to support PA education. Rick Burris, PA-C, PhD has also been a long-time clinical instructor with Augsburg and was invited to give the commencement address. During his speech, Rick reflected that when he first started out, he was often told he should find a back up plan. However, he didn't really need one as he says, "Well now, after 50 years of PAs, it seems they were wrong!" Dr. Burris shared 5 things that are required for a PA to survive:
Listen. It is the hallmark of our profession. Listen to everything a patient says and understand from their perspective any issue.
Character. So that no one can impugn or challenge your character, put it to the test daily and live out the virtues of integrity, honesty, generosity, sincerity, self-control and loving kindness.
Experience, all that you can, be it trial, suffering or even the smallest morsel of education, take it!
Healthy ambition is the measured striving for achievement or distinction, established by integrity and honesty toward all people.
Success. It isn't final. It is ongoing and when you put all you have into it, working hard, preparing for tomorrow and learning from failure, you will see success. Success may come in different ways, but it is the realization of success that matters, not the accolades that so quickly fade.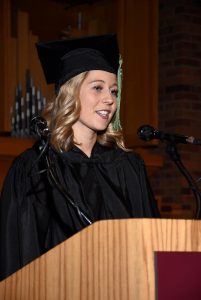 Class President Emma Hermes delivered the Student Commencement speech to her fellow peers. Emma decided to "diagnosis" the class as a way to showcase their uniqueness. She put her PA training to the test by describing the condition, epidemiology, etiology, symptoms, physical exam, diagnosis, treatment and prognosis. During their time in PA school, there were 9 engagements, 7 marriages, and 10 babies. She outlined how these 30 individuals came from their own separate paths and joined together to become the class of 2018: "Well, we thought it would be 'fun' to challenge ourselves to learn all we can about medicine in 28 months."
The clinical presentation of symptoms ranged from positive to negative, and might "include dysregulation of weight and emotions, such as laughing, crying, and smiling all in one minute." Upon physical exam, you might find some of the following: high blood pressure, elevated heart rate, a general disheveled and tired appearance, intermittent tachycardia, with occasional arrhythmias, likely due to stress, dry and cracked due to excessive washing and sanitizing of hands in clinical phase." And finally, she reached a diagnosis, the treatment plan and prognosis of the class.  In her closing to the class, Emma reassured her class that "although from here we go our separate ways, we will always have something that bonds us together. Over the past 28 months we stuck together through the good days and the bad, to get here. We lifted each other up when we were down, lent a hand when school or life got hard. We not only gained a lot of medical knowledge, we gained each other as friends and future colleagues."
---
Yet again our department faculty and staff grew in size. Throughout the course of the year we added three faculty positions and two staff members. Mandy Perkins, PharmD transitioned from part time faculty to being here all the time! Dr. Perkins teaches the pharmacotherapy courses throughout the academic year and assists with the clinical phase. Two alumni of the program, Eric Van Hecke, PA-C and Kristen Lindvall, PA-C joined our ranks this fall. PA education has been a consistent theme throughout Eric's career as he has been a preceptor and guest lecturer. His career spans experiences in both large, level one, emergency departments as well as small, rural community-based emergency departments. Kristen transitioned from General Surgery at HealthPartners to be a full time faculty. She is excited to train future PAs to function at their highest level and to promote the excellence of Augsburg PA students. This spring we welcomed Tim Capelle as our new Program Manager. He has over 15 years of higher education administration experience and admissions management capacity. Stacey Hegrenes brings her administrative talent to the program and also her superb knitting skills.