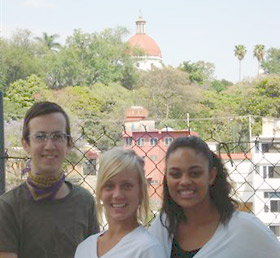 It's not too late yet to apply for fall semester study abroad programs — the deadline is April 1. Two programs offered in Mexico through the Center for Global Education (CGE) are International Business and Global Citizenship, and Crossing Borders: Gender and Social Change in Mesoamerica.
For these courses, Augsburg students pay about the same costs as studying on campus, plus free round-trip airfare is offered.
In the Crossing Borders program, students examine key social, economic, political, and cultural issues in Mexico and El Salvador. They explore the interconnectedness of race, class, and gender, and see first hand the experience and empowerment of women.
Global economic conditions are examined in the International Business and Global Citizenship program, using Mexico as a case study to identify the issues around trade and resources, and understanding it from the perspectives of both developed and developing countries.
The Augsburg Mexico campus is located in Cuernavaca, known as the "City of Eternal Spring." Full of colonial and revolutionary history, art, indigenous culture, and archaeology, Cuernavaca is only 1.5 hours south of Mexico City and 3.5 hours north of Acapulco.
Students live both in Augsburg's study center and with families in homestays, but learn mostly outside the classroom — in the city, on field trips, in museums, rural villages, and indigenous communities. Advanced Spanish is not required , since there are intensive courses and courses in English. After the first three weeks of intensive Spanish, students spend a week in a rural Nahua community, living with host families and learning about indigenous culture.
Tiffany Ramm, Walter Gies, and Julie Schellack (pictured above) are currently in Cuernavaca, studying this spring in the program, Social Work in a Latin American Context. This includes a two-week exchange with social work students at the National Autonomous University in Mexico City and an internship in a social service organization.
When asked what they have liked best about the program, all three mentioned the experience in the Nahua community. They participated in a sacred ceremony, which Schelleck recalls as  "the most powerful experience I've ever had with a guest speaker."
Ramm is doing an internship at the Salvation Army Orphanage, teaching English to kids. She plans to work in juvenile corrections and says, "I know this experience of working with youth in another culture will help."
Gies works with an organization involved in HIV/AIDS education, and says that his experience is challenging his idea of traditional social work.
To learn more about the current students in Mexico, read their blog at www.swkmexico08.blogspot.com.
For more information on applying for the fall programs, International Business and Global Citizenship, and Crossing Borders: Gender and Social Change in Mesoamerica, go to www.augsburg.edu/augsburgabroad. The deadline for applications is April 1.