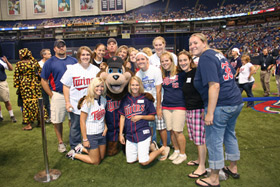 Members of the Augsburg College softball team were honored before the August 19 Minnesota Twins game against the Oakland Athletics at the Metrodome, and two Auggie pitchers delivered the ceremonial first pitch.
The Auggies were honored as a part of the Twins' "Lutheran Night at the Metrodome" festivities, preceding Minnesota's 13-2 victory over Oakland. Nine Auggie players and four coaches took the field to be honored. Before a crowd of 35,256, Auggie pitchers Sarah Green (JR, Winnebago, Minn./Blue Earth Area HS) and Melissa Larsen (JR, Andover, Minn.) delivered ceremonial first pitches to Twins first-base coach Jerry White.
Augsburg completed one of its best seasons in school history in 2008, finishing 20-23 overall and 15-7 in Minnesota Intercollegiate Athletic Conference play. After finishing 4-34 last season and starting 4-14 this season, Augsburg won 16 of its final 25 games to reach the 20-win mark for the first time since the 1995 season (20-18) and just the ninth time in the last 30 years (since the 1979 season). Augsburg reached the MIAC postseason playoffs for the first time in the event's five-year history this year, while also reaching the postseason for the first time since 1984.
Head coach Tim Gormley was named the conference's Coach of the Year, while four Auggie players earned conference awards. Third baseman Jennifer Castillo (FY, Minneapolis, Minn./Washburn HS) was named the MIAC's Rookie of the Year and earned All-MIAC honors, along with Auggie infielder/pitcher Tiffany Magnuson (JR, Green Bay, Wis./Notre Dame Academy HS) and catcher Ashley Westerman (SR, Bemidji, Minn.). Infielder Jolene Ross (SR, Arden Hills, Minn./Mounds View HS) was named to the All-MIAC Sportsmanship Team. Magnuson was also named to the National Fastpitch Coaches Association Division III All-Midwest Region third team as an at-large selection, while Westerman, a physics and mathematics major with a 3.57 grade-point average, was named to the ESPN The Magazine Academic All-District 5 College Division second team.