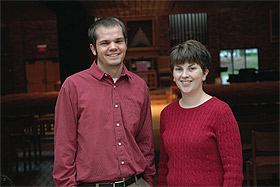 When Sarah Ruch and Joe Midthun applied for their internship placements, neither expected to find themselves on a college campus. Sarah and Joe are students from Luther Seminary who are working this year with the campus ministry department at Augsburg. As interns, Sarah and Joe have been planning and presiding over chapel services, preaching, and teaching.
Sarah is originally from Fremont, Neb. and has a BA in English from Midland Lutheran College. She is married (her husband is also a student at Luther) and has two young children. Sarah wanted to complete her internship in the Twin Cities to stay with her family. Though she likes working at Augsburg, she said it's not what she expected. "Working at a college is relational ministry," she said. "Augsburg is a congregation but in a different setting."
Joe grew up in Papua, New Guinea and moved with his family to northwestern Minnesota at the age of 10. He received his BA in English and American studies from St. Olaf College. He has enjoyed working with the campus ministry office and with student leaders at Augsburg. "A big advantage to working on a college campus," he said, "is there are so many educated people around. There is always someone to talk to about issues or your interests." Joe has also appreciated hearing a variety of speakers in Augsburg's daily chapel services, everyone from President Pribbenow to the students. "It's a gift to be a part of that," he said.
Joe is also working with athletic teams at Augsburg and has enjoyed attending sporting events and getting involved in the athletes' lives. Sarah said she has been impressed with student involvement in ministry events. "Most events are student led and planned," she said. "I think it says a lot about them that they are invested and take it upon themselves to get involved."
Both Sarah and Joe were involved in helping the Augsburg community mourn the death of Ahmednur Ali, the student who was shot and killed Sept. 22 outside the Brian Coyle Center. They observed how Augsburg handled the situation and were able to hear from the outside community as well. Sarah said it was an opportunity for her to learn how to help people as a pastor. Joe said he appreciated the interfaith conversation and the challenge of incorporating different faith traditions into a unifying service in light of a difficult situation.
Sarah and Joe are eager to learn as much as they can about Augsburg and to truly be a part of campus life. "We appreciate when people introduce themselves to us," Joe said. "It gives us a chance to get to know them."
Meet Sarah and Joe during daily chapel: Monday, Wednesday, and Friday at 10:20 a.m. or Tuesday and Thursday at 11:20 a.m. Augsburg's daily chapel service is open to all.