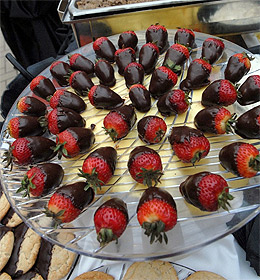 The end of the fall semester always brings a rush of events designed to help students get ready for or take a break from finals. We're also blessed (or cursed, depending on our metabolisms) with an abundance of holiday open houses for Augsburg staff, faculty, and students to enjoy homemade goodies and each other's company.
So this week and next, wear your stretchy pants, get out of your office or your favorite study spot, and get together with other Auggies at one of these special events.
To ameliorate that after-party remorse: Fitness Center Hours
Wednesday, Dec. 10
Religion Department and the Lilly Program Holiday Open House
2:30-5 p.m., Memorial 233 (above the president's office)
Delightful conversation! Festive atmosphere! Refreshments!
Thursday, Dec. 11
CCHP Holiday Gathering
11 – 12:30 p.m.,
Christensen Center
We will have treats, music, home for the holidays info, as well as chair massages and pet therapy with real live dogs from Paws for Learning.
Friday, Dec. 12
Las Posadas
10:20 a.m., Hoversten Chapel, Foss Center
See processions that reenact the journey of Mary and Joseph to Bethlehem and their search for lodging (posada) with songs, a mariachi band, piñatas, and Latin food.
MUE 129 Rock Improv Holiday Party
1-4 p.m., Sateren Auditorium, Music Hall
This is our holiday wrap up/performance/open-jam and informational session for those interested in enrolling for spring semester.
Women's Resource Center Spa Day
1-5 p.m., SVE 207
Take a break from your studies and relax! Come to make your own bath salts and spritzers, and enjoy free food. Free massages will also be available by appointment, so come early and sign up for a time. Anyone in the Augsburg community is welcome to come!
Biology Holiday Party
3-6 p.m., SCI 213
Celebrate the holidays and the end of fall semester with Tri Beta!
Chemistry/Physics Holiday Party
3-6 p.m. SCI 21, and demonstrations in the quad
Food and beverages, including liquid nitrogen ice cream, will be served.
Mathematics Holiday Party
3 p.m., Mathematics suite, Science Hall
Hosted by faculty and students in Mathematics
Fuel Up for Finals — sponsored by ASAC and The Augsburg Stewards
4-6 p.m., Christensen Center Student Lounge
Pizza Party — free pizza and beverages
Monday, Dec. 15
Human Resources Holiday Open House
2:30-3:30 p.m., Memorial Hall 19 (the ground floor)
Come join us for gathering and treats! We hope to see you there!
Late Night Breakfast
10-11:30 p.m., Commons Dining Center
Faculty and staff serve a sumptuous breakfast to help students get some good, healthy brain food to help with finals. Students MUST bring their Augsburg ID.
Tuesday, Dec. 16
Admissions Open House
1-3 p.m., Day Admissions suite
Hosted by Day Admissions and Augsburg for Adults and Graduate Admissions
Thursday, Dec. 18
Enrollment Center Holiday Open House
10-12 a.m., SVE 102
Join the Enrollment Center staff for a brunch-style open house.
Faculty and Staff Holiday Gathering
3 p.m., Christensen Center
Bring your colleagues and a bit of your creative energy, and join us for a good time with decorating, food, and beverages. We will decorate 1,000 sugar cookies generously donated by A'viands. The decorated cookies with be shared through Campus Kitchens to a variety of community organizations to add a little sweetness to their holidays.
Fitness Center Hours
6 a.m. – 11 p.m. Monday-Friday
12 Noon – 6 p.m. Saturday
12 Noon – 8 p.m. Sunday