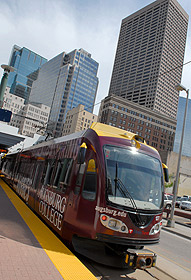 Auggies, take the train!
Downtown Minneapolis Farmers' Market — July 31, 11 a.m.
Every Thursday from Memorial Day to Labor Day, local vendors sell fruits and vegetables, flowers, crafts, and other great items along Nicollet Mall. Wear good walking shoes, bring your canvas shopping bag, and don't forget your small bills ($1 and $5). Thursday, July 31. Meet at the Franklin Street station at 11 a.m.
Auggie Train on Facebook
Join the "Auggie Train" group and invite your friends! Post a photo, share your train story, and get details on future Take the Train events. Continue reading "Auggie Train Goes Downtown" →