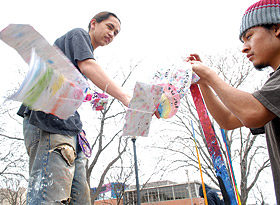 Spring is a time to slow down, smell the flowers, and get free art. At least that is what you can do in Murphy Park on Thursday, Apr. 21 from noon to 3 p.m.
Painting and book students invite the campus and community to celebrate "Instructions for a Slower World" in honor of Earth Day 2011. The collaborative artwork sprouting in the garden and trees at the center of the park is a combination of painted totems and handmade paper created by Tara Sweeney's beginning painting class and Regula Russelle's paper and book class.
As part of the Earth Day 2011 challenge to create a billion acts of green, students will be giving away the handmade paper artwork.