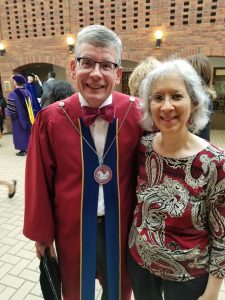 Sometimes a match made in heaven requires a connection here on earth. Such is the case with Linda Giacomo, whose generous gifts to the Augsburg Women Engaged (AWE) Scholarship fund are the outcome of a chance meeting.
Giacomo, 67, is a retired clinical psychologist who speaks freely of her two passions: helping women get educated and helping them get elected to political office. When she met Catherine Reid Day, an Augsburg friend, donor, and strategic marketing consultant through her company, Storyslices, at a political event last May, the two talked about the interests they shared. What ensued was as unlikely—yet as likely—a serendipitous result as anyone could imagine.
In so many ways, Giacomo and Augsburg are a matched set. An Italian-American who hails from Port Chester, New York, Giacomo knew in her teens that she wanted to work with children, perhaps in elementary education. But a comment by her younger brother—"Stop talking to me like you're a psychologist!"—led her to study psychology at SUNY-Buffalo, then earn a Ph.D. in child clinical and adult psychology at Michigan State University.
"It was fascinating," she says. "It combined everything I'm interested in: people—what makes them tick, why they feel and do things, being intellectually challenged, and helping others. It was a perfect fit."
After post-doctorate work in Philadelphia and other positions that proved too research-heavy, she moved to Minneapolis for a clinical position at Children's Hospital, then went into full-time private practice five years later. After retiring, and with much appreciation for the area's affordable real estate, bike paths, parks, and "just enough" theater, art, and music, she has stayed. So has her propensity for research.
After learning more about Augsburg, she did her homework. "I have had patients who went there, but I knew very little about it," she says. "Having gone from having no money to probably being considered fairly wealthy, I was looking for an estate beneficiary. I have no loyalty to any particular institution, but I do have a great commitment to representation, especially of women in the faculty and administration."
She studied Augsburg's numbers—need, diversity, solvency, service—and visited campus to meet its leaders. What she found was common ground. Like so many Auggies, she was the first in her family to attend college, earning merit scholarships but still needing a decade to pay off student loans. She empathizes with immigrant struggles, recalling impoverished grandparents who left southern Italy to become naturalized U.S. citizens, and parents who could not afford their children's college tuition despite her father's three jobs and her mother's one. She also inherited a legacy of service, after watching her family take in neighborhood children and offer help to anyone in need.
"There are people who say they care, but care is just a word if you don't act," says Giacomo. "In my practice, my one concern was to make sure I didn't leave behind the people who had no money. I never turned a patient away for lack of funds. About a third of my patients paid whatever they could afford."
Giacomo reviewed statistics revealing that college graduates' increased earning potential could move them up two socio-economic classes. "Education is transformative in a way that gives you so much power and choice. People should not be denied that opportunity because they have no money," she says. A prior visit to a small, struggling college in South Carolina "touched my heart, but it also woke me up. My family knows I love them and will help if they ever need money, but they are educated and affluent enough to help their children easily afford college or repay loans. I want to help people who have nobody."
Noting that women earn 26% less than men but carry two-thirds of the nation's college debt, Giacomo has placed them first, designating a $30,000 outright gift to the AWE Scholarship as well as her $1.5 million estate gift. In her current role as "village elder," and when she is not busy tap-dancing and practicing Italian, she will share her significant wisdom with the AWE Philanthropy Council, which she has joined.
"I found it deeply satisfying to be able to provide emotional help and support to so many patients, who could then face their pain and make better, happier lives for themselves. What they could achieve was profoundly moving," she says. "Now I am able to provide financial support as well. To not be generous, to not share what you have with those in need, is heartbreaking. In making these gifts to Augsburg, my heart is full."