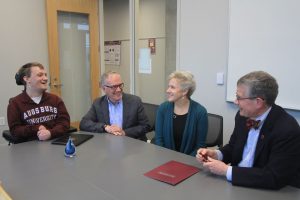 When Hazen and Kathy Graves toured Augsburg with their son, Sam Graves '16, they immediately felt they had found the right place. "We were totally impressed," says Hazen, a retired partner at the Faegre Baker Daniels law firm, where he advised nonprofit organizations and handled legal matters related to charities and charitable giving. "Just walking through the campus, we found students very respectful, friendly, and eager to engage."
They also found that Augsburg offered the unique assistance Sam needed as a young man with cerebral palsy who uses a power wheelchair. "As we learned more about the support Augsburg offers to students with various kinds of challenges, we came to understand that Augsburg had been doing this for a long time, long before ADA," says Hazen. "The University's attitude—that's the way the world is, here we all are, let's get on with it—came through loud and clear, and it was reinforced as Sam went through four years there," he adds.
Education is a high priority for the Graves family. Sam had a very good experience at Minneapolis South High School, where he excelled in academics and played in South's robust adapted athletics program. After graduation, however, the choices were more difficult.
"Sam is very bright and has always done well in school. One of our goals was to make sure he could really capitalize on that," says Hazen. He and his wife, Kathy, a principal in the communications and planning firm of Parenteau Graves, quickly learned that not every higher education institution was able to—or even seemingly wanted to–serve students with physical disabilities.
A tour of Augsburg was all it took. Sam agreed with his parents' assessment and enrolled in 2012. He graduated with a degree in psychology in 2016. Now 26, Sam manages social media and creates digital content for the Minneapolis-based technology company Accessible360. He fondly recalls Augsburg's CLASS program as well as his favorite teachers, Michael Lansing, Bill Green and especially his advisor, psychology professor Bridget Robinson-Riegler. "She was really fun and really, really smart. Plus she talked about the Twins a lot," Sam says. An ardent sports fan, he is the co-author of the baseball blog "Two Men On."
Sam's parents applaud Augsburg's "great services, great students, great faculty, and great accommodations made for those with disabilities. And they appeared happy to provide them," Hazen says. "We had the overarching feeling that Augsburg embraced differences and made sure everyone has an opportunity to get a good education."
The idea of supporting Augsburg financially occurred to both Hazen and Kathy independently, and they decided to donate $50,000 to endow a scholarship. "This is the most open community that I've experienced anywhere, with the possible exception of South High, and it's pretty clear that this attitude permeates the place," adds Hazen. "Access to higher education is a big issue, and we're just doing our little part."