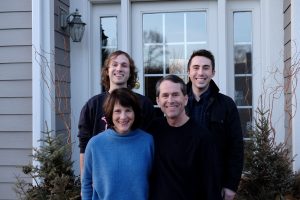 Lou Anne and Tim Sexton believe philanthropy is based on a personal experience with an organization. They experienced this connection with Augsburg after their son, Shea '19, joined the StepUP Program.
"Shea's experience with StepUP and Augsburg was transformational," says Lou Anne.
Shea learned about StepUP while at a Hazelden Fellowship in St. Paul. A group of clients from fellowship were going to tour the StepUP dorms and Shea went along.
"He had kind of given up on the notion of pursuing a four-year degree while staying on a college campus."
Shea attended Luther College and Inver Hills Community College where he struggled to stay sober. But after learning about StepUP, he realized there was a way he could get a degree and stay sober.
"He was mainly concerned about finding a place to live that would allow him to continue his recovery."
Tim and Lou Anne appreciated the community aspect of StepUP for their son. They also liked the mission of StepUP: being able to live in recovery and pursue a higher education in a university, a university that also focused on diversity and non-traditional students.
So when Lou Anne and Tim learned of students who loved Augsburg and StepUP but had to leave because they couldn't afford it, they knew they could help.
"We want to be part of the solution, to help students realize their potential. StepUP parents have already spent a lot of money on treatment and often can't afford to send their kids to Augsburg also."
The Sexton's set up a StepUP Endowment Fund in 2020. It is a blended gift which includes a cash gift, a future IRA distribution, and a bequest in their estate. They hope their gift will help future StepUP students who can't afford to go to or stay in StepUP.
"StepUP actually helped our entire family. It's a great investment."