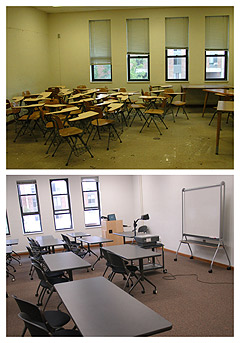 One by one, 16 classrooms in Old Main, Foss Center, and Science Hall were transformed over the summer from tired, outdated rooms into lighter, brighter, more comfortable, and more flexible spaces. Worn carpets, dim lighting, and tablet-arm chairs gave way to new carpeting and paint, whiteboards that replaced blackboards, user-friendly technology, and tables and chairs. It's all part of a plan to improve the teaching and learning spaces across campus to better meet student and faculty needs.
The project began in spring 2006 when Dean Barbara Farley and David Warch led a small group of faculty and staff to explore current thinking and research about the kinds of spaces—both formal and informal—where teaching and learning occurs. The goal was to design areas that support multiple teaching and learning styles, and that offer easy-to-use technologies. For instance, rather than individual desks or chairs with tablet arms, small tables and chairs better provide for multiple room arrangements and configurations.
In collaboration with Warch and Matt Linngren in Information Technology, and Craig Phillips in Facilities Management, all 47 general-use classrooms on campus were evaluated, with 16 identified for the most needed renovation. Several classrooms were retired, as not warranting further investment. The most noticeable transformation occurred in Old Main 26, which was completely gutted. Walls were patched, ceiling tiles replaced, and new carpeting, furniture, and classroom technology were installed. All 16 classrooms are now in use for fall classes.
Hundreds of chairs and desks were replaced; almost all found new uses, some with local charities, with only a few pieces in poorest condition being discarded. The bulk of the replaced furniture is now on its way to West Africa, thanks to non-profit organization in Washington, D.C., that collects used classroom furniture and distributes it to schools. On Aug. 29, a 40-foot trailer picked up the furniture for transport, and in a few months Augsburg's old desks and chairs will take on new life in for youth at schools in Senegal.