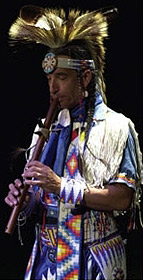 Kevin Locke, visionary Hoop Dancer and traditional storyteller, will be performing on campus on Monday, Jan. 28 from 10 – 11:30 a.m. in Si Melby Gym.
The dance ensemble features historic, authentic dance and music from the artists' traditions: the Plains nations of Lakota, Anishinabe, and Comanche, the Southeastern tribe Choctaw, and the Woodlands Nations of Ojibwe and Oneida.
This one-of-a-kind ensemble of American Indian champions and award winners offers a rich variety of American Indian traditions and aesthetics in dance, instrumentals, song, storytelling, sign language and audience interaction.
For additional information, contact Jennifer Simon, Director of American Indian Student Services at 612-330-1144.