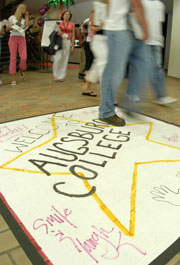 The "Get Connected! Student Involvement Fair" will be held on Wednesday, Jan. 23 from 3 to 8 p.m. in the Christensen Center Main Lobby.
The fair-style event allows students to learn about student organizations at Augsburg. Anywhere from 30 to 35 student organizations will be represented.
"Every student on campus should attend the 'Get Connected! Student Involvement Fair,'" says Will O'Berry, assistant director of Campus Activities and Orientation and organizer of the event. "There is something to interest everyone. And if there is not, the Campus Activities staff is always present to assist with the formation of new groups with new ideas."
The activities fair is just one of the support mechanisms provided for student organizations through Campus Activities and Orientation.