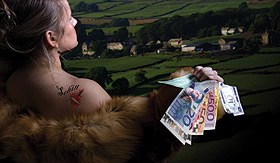 Tickets are now available for the Augsburg College Theatre Department's mainstage production of "The Visit," written by Friedrich Durrenmatt and guest directed by Luverne Seifert '83.
"The Visit" tells the story about a rags-to-riches millionaire, who as a young girl once lived in the decrepit and poverty stricken European hamlet of Guellen, who returns home for a visit. The town, giddy with the opportunity to climb out of its destitution, joyously welcomes her back, only to realize that she conceals a dark secret and that her generosity will come with a cost. Durrenmatt's tragic comedy unfolds a haunting story of human greed and vengeance.
Performances run Feb. 1, 2, 7, 8 and 9 at 7 p.m., and Feb.3 and 10 at 2 p.m.
Tickets are $2 Augsburg College Students; $8 ACTC faculty, staff, and students; $10 general public.
For reservations and more information, please call 612-330-1257.