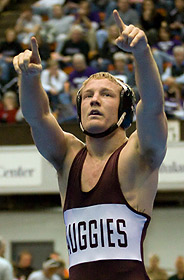 The Augsburg Wrestling team scored a third-place finish at the NCAA Division III National Championships on Saturday evening at the U.S. Cellular Center in Cedar Rapids, Iowa.
Augsburg earned 87 team points in its third-place finish at the championship, marking the 20th straight year that Augsburg has earned a top-four finish in national competition — the longest current consecutive streak of top-four finishes of any NCAA wrestling program, regardless of division. Wartburg (Iowa) won the national title with 147 points and three national champions, while Wisconsin-La Crosse was second with 100 points and two national titlists.
Augsburg College's Seth Flodeen (JR, Cannon Falls, Minn.) claimed an individual national title at 125 pounds.  Flodeen battled back from a 5-0 deficit in the opening minutes of the match to capture the title. Flodeen is the 43rd wrestling national champion in Augsburg program history — a record 39th in NCAA competition for Augsburg.
Augsburg claimed five All-Americans, marking the 20th straight season that Augsburg has had five or more All-Americans and 22nd time it has accomplished the feat in its 26 seasons of NCAA Division III competition.
"I thought it was a great total team effort," said Sam Barber, who completed his first season as Augsburg's head coach. "We had an individual champion, five All-Americans, and placed in the top three as a team. We maintained a focus of improving 'One Percent a Day,' from the beginning of the season to the National Duals to the Great Lakes Regional and the national tournament. The credit really belongs to the kids on the team. It's their sweat and blood that makes it happen."
For more information, please visit the Augsburg Athletics web site at www.augsburg.edu/athletics/wrestling/.
Photo by Caleb Williams