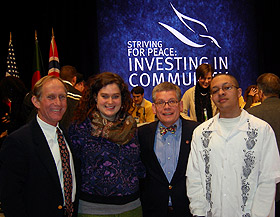 Last Friday, at the Peace Prize Forum (PPF) held at Concordia College (Moorhead), Augsburg juniors Willie Pinckney and Hannah Glusenkamp were introduced with the first class of Nobel Peace Prize Forum Peace Scholars.
This new PPF program selects two students from each of the five sponsoring colleges — Augsburg, Augustana (Sioux Falls), Concordia, Luther, and St. Olaf — who will travel together on a summer seminar, meet as a cohort during the following academic year, lead peace activities on their campuses and present at the next spring's Peace Prize Forum. The goal of the Peace Scholars program is to develop student leaders inspired to careers or lifelong interests in world peace issues.
Pinckney transferred to Augsburg last year and is majoring in political science, with a history minor. Last fall he studied in Central America on a Center for Global Education (CGE) semester program. He is actively involved with local DFL (Democratic) campaigns and also serves as a track-and-field coach at Minneapolis South High School.
Glusenkamp is majoring in women's studies, with minors in Spanish and religion. She has studied abroad in Central America and Mexico with CGE, has lived in Argentina, and plans to study in India in the coming fall semester. Last fall, she presented her study abroad experience on a panel at the CIEE International Education Conference.
On campus, Glusenkamp is active in student organizations promoting activism especially around gender issues. She hopes to work in public health, focusing on education and wellness for women and children of immigrant and refugee communities in the U.S.
Pinckney and Glusenkamp will travel to Guatemala in August on a 10-day intensive seminar sponsored by CGE to study Guatemala's post-conflict experience with the 1996 Peace Accords. The seminar will also highlight themes and issues to be discussed in next year's Peace Prize Forum.
Peace Scholars are chosen from applications and essays detailing interest in and goals for being a Peace Scholar. Political science professor Joe Underhill serves as coordinator and adviser to the Augsburg scholars.