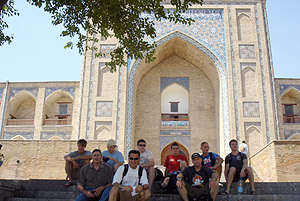 Six members of the Augsburg College wrestling team traveled to Central Asia for a 15-day training, mission, and service trip. Four Auggie wrestlers, two coaches and four other wrestlers were in central Asia from May 25 to June 8, training in Tashkent, Uzbekistan, and Dushnabe, Tajikistan. In addition to training and competing, the wrestlers did mission and service work, along with visiting historical and cultural sites in the two countries.
Junior Seth Flodeen offered this account from their third day into the trip: "After we were done wrestling, we went out to eat at a Russian restaurant, where the whole team had lamb shashlik, which was very good. After that we went to see the city of Tashkent, Uzbekistan, and visited a bazaar (a marketplace) and an Islamic church where we saw the world's oldest Qur'an, which was really interesting."
For pictures and a day-by-day account of their trip to Central Asia, visit the Augsburg Athletics web section at www.augsburg.edu/athletics/wrestling/08asia/index.html.