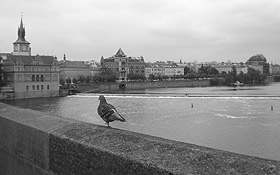 Last month, history professor Jacqui deVries and English/film professor Bob Cowgill led a group of 20 Augsburg students through Germany, Poland, and the Czech Republic. Using literature, film, architecture, and eyewitness accounts, students explored the aftermath of World War II to understand how people made sense of their suffering and now pay homage to the past.
The idea for the trip began when deVries joined a Lilly grant-sponsored trip in Europe to study Martin Luther and the Reformation. There she met tour director Andreas Brecht, and the two discovered a common interest in post-World War II history.
Back at Augsburg, deVries shared her idea for a study abroad program with English and film instructor Bob Cowgill. The two created a curriculum combining post-modern film and literature to explore themes such as of the construction of memory, the discovery of moral lessons through art, and attempts to preserve the past.
"In Germany, the themes of division and reunification scream at you in the face," said deVries. The aftermath of WWII is visible, from the bullet holes and graffiti that remain in the Reichstag to the building's new mirrored glass dome, designed in the late 1990s by architect Norman Foster to symbolize Germany's reunification.
Cowgill encouraged students to reflect on how horror has been commemorated in literature but also in places like the Jewish Museum, the Holocaust Memorial, and Auschwitz. There is a difference, he said, between a personal narrative that generates an emotional response and a rigorous analysis that asks the reader, or viewer, to come to his or her own realization.
Gabrielle Miller is a senior communications major who had never been to Europe before this opportunity. She wanted to learn about the Holocaust because she said, "I couldn't believe that someone could hate another person so much just because of their religion, that they would want to kill them." Seeing places like Auschwitz firsthand gave Miller a better understanding of life before and after the war.
"It's one thing to read about history; it's another to walk were the famous politicians, heroes, villains, geniuses, and musicians walked. You get an experience that can't be equaled in the classroom," Miller said.
Fifth-year elementary education major Teresa Barnhill went because WWII history has always been one of her favorite subjects. She'd also never been out of the country. "I was never interested in studying abroad until this trip came around," she said. For Barnhill, the two-week trip was the best way for her to travel and study.
"Short-term study abroad programs are perfect for students who are working and paying bills, and even for students who want to travel but are apprehensive about being away from home for too long," said Barnhill. She said she is looking forward to her next adventure, perhaps a trip to Japan.
The group toured the cities of Berlin, Leipzig, Wittenberg, and Dresden in Germany; Krakow and Auschwitz/Birkenau in Poland; and Theresienstadt and Prague in the Czech Republic. In addition to visiting memorials and museums, they also enjoyed sightseeing excursions and wonderful German and Polish meals, deVries said.
"WWII and its Aftermath" was a short-term study abroad program through Augsburg Abroad. For information about future trips or faculty resources for creating a short-term experience, go to www.augsburg.edu/augsburgabroad.