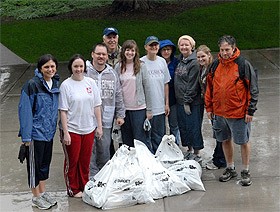 Despite soaking rains that thwarted some efforts, Augsburg's first Campus Beautification Day was, by all accounts, a success. The soggy weather on June 11 did not prevent legions of Augsburg staff, students, and faculty from cleaning, planting, and painting on and off campus.
Projects included a team cleaning up debris along the Mississippi River and others planting a border and building a path in the community garden. There were five painting projects involving 45 faculty, staff, and students working in Marketing and Communication, Event and Conference Planning, Murphy Place, Lindell Library, and the tunnel beneath Christensen Center.
Tim Dougherty of the Center for Service, Work, and Learning, led projects in the community garden. Half of his crew — including President Pribbenow and his family — planted a border around the garden. Donations included day lilies and other plants from biology professor Ralph Butkowski's yard, various perennials from Augsburg for Adults recruiter Judy Johnson, and annual flowers procured through Augsburg's membership in the Minnesota Green Program (through the Minnesota Horticultural Society).
The other half of Dougherty's team began building a stone path that will lead to both the labyrinth and the garden from the sidewalk on 20th Avenue. Dougherty said, "We couldn't have gotten very far on this project without the leadership of Bruce Rowe and his summer grounds crew. Those folks are impressive!"
A group of 12 staff members (shown above with their haul) cleaned up a half acre of land along the Mississippi River. Staff member Matt Rumpza said, "Not only did we clean up our river edge, but I also met some great people." Augsburg is a steward of a section of the river gorge through the Friends of the Mississippi River initiative.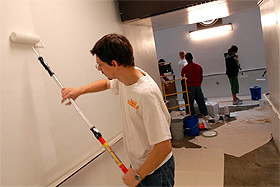 Members of the marketing and communication department worked with Mike Magler and a team of painters to freshen up the walls of the tunnel. The Augsburg paint crew later added a maroon stripe to the walls and painted the handrails. Soon, signs will be added to the floor and walls.
At the annual staff picnic following the beautification projects, Augsburg College President Paul C. Pribbenow praised the campus community. "We at Augsburg are always mindful of caring for and helping our neighbors," he said, "but we must remember that we are neighbors to each other. This day has demonstrated our commitment to making our campus a beautiful place."
Pribbenow also offered thanks to the Staff Senate and Cherie Christ, who initially proposed the project as a staff service project and community-building experience. Christ said she hopes the efforts generated a sense of ownership in our workspaces and illustrated the importance of giving back to our internal as well as our external communities.
Christ said, "One of the best parts of the day, for me personally, was the opportunity to work with students on a different level. My work doesn't always allow me to do this, and it was fun just getting to know the students."
Special thanks to the Campus Beautification Committee: David Draus, Lisa Roe, Cherie Christ, Tim Dougherty, and Tom Morgan.