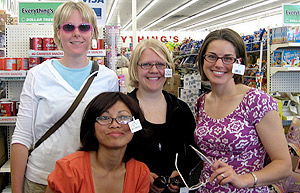 Twelve second-year physician assistant students are preparing to travel to Guatemala for two weeks to study health care practices and to learn about indigenous culture. Part of their preparation has included raising money — two garage sales netted over $1,100 — that they've used to buy medical equipment and supplies to donate, small gifts and other health items — plus 44 pairs of reading glasses purchased at the dollar store.
Much of their time in Guatemala will be spent in Mayan communities, learning about traditional culture, spirituality, and medicine. The students will visit clinics and schools, and meet with healthcare workers. They'll also present health education programs and conduct workshops for health promoters on topics such as hypertension and diabetes. Some of their purchased supplies are hygiene and health items for people to take home that reinforce these messages.
The Guatemala trip, from June 23-July 8, is a pilot course for PA students, led by Professor Donna DeGracia and coordinated by the Center for Global Education. While in Guatemala City, the group will stay at Augsburg's guest house, Casa San José, for orientation and background on local history and culture. This will help the students understand how cultural differences, poverty, and a long civil war have deeply affected the Guatemalan people.
In the capital city, the students will visit poverty-stricken areas and meet with community workers to see first hand the deep disparities in culture. DeGracia says it's a real eye-opener to actually see how little so many people have and how they find ways to live on and off of other people's resources.
Traveling into the highlands, the center of Guatemala's indigenous population, the students will visit Mayan communities in Chichicastenango and San Lucas Tolimán. From the Mayans, they'll learn about traditional medicine, the use of medicinal plants and other healing practices. The students' itinerary, planned by the CGE staff in Guatemala, also includes participation in a Mayan ceremony.
The PA students targeted hypertension and diabetes as two areas where they can provide both information and supplies to help local health promoters improve the community's well-being. The students will donate basic medical equipment and supplies they've purchased, such as blood pressure cuffs, stethoscopes, and over-the-counter basics as vitamins and pain relievers, to the local communities.
The PA students hope to draw on this experience as they think about their own medical practice. This includes understanding better how people, especially in traditional cultures, approach medicine differently, and developing cultural sensitivity as they treat patients. They also hope to gain insight into making the best use of scarce resources, helpful for PAs who may practice in rural areas.