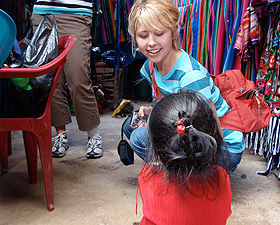 On a bright afternoon in late July, ten women from Augsburg College boarded a plane bound for Guatemala City. They were six students representing the day, weekend, and graduate programs, two faculty, and two staff members. Before this flight they were acquainted perhaps only casually, but the next nine days would change not only their relationships with each other but also their ideas about themselves. Their trip, sponsored by Augsburg's Center for Teaching and Learning and Augsburg Abroad, was partially funded by the Hoversten Peace Endowment.
The purpose of the Hoversten Peace program is to introduce participants to the process of peace and reconciliation by learning about Guatemala's history of conflict. The program also aims to develop a strong learning community among students, faculty, and staff. Through firsthand encounters, participants have a unique opportunity to examine the root causes of poverty and oppression, explore the dynamics of development, and discover the spirit of hope lived out by people working for social change.
For Jennifer Hipple, a weekend college student majoring in communication studies, this program provided her first opportunity to study abroad. After her return to Minnesota, Jennifer reflected on her experience. "My trip to Guatemala was powerful and left me with so many images and conversations I have yet to process. What will I do with this experience? How can I share it with others?"
Her thoughts on some of the group's encounters:
At turns, we came face to face with heartbreaking stories, grinding poverty, and desperate living conditions, but also, incredibly inspiring and tenacious people who are working hard to improve life in Guatemala.
We met with congressional representatives, business leaders and government officials. We also were honored to meet ordinary people doing extraordinary work to affect change. One, a woman doctor, works four jobs in an effort to improve health care and nutrition for children. She told of the desperate conditions and limited resources in Guatemala. Nearly half of all children under the age of 5 are malnourished. Infant mortality stands at 39 percent. Most people simply do without care and medicine, and there are just 10 doctors for every 100,000 people in Guatemala.
CGE travel seminars emphasize life stories of people and communities. The seminars are designed to acquaint people with the realities of another society, to connect them with local people, and to assist them in learning about the issues those people face so that you can begin to see the world through their eyes.
One of the most touching experiences was our trip to the municipal dump in Guatemala City where we visited a school funded by the city government. Here, children who work in the dump are provided with an opportunity to get an education and, with any luck, a better life. There are 4,000 people who pick through the city's garbage daily looking for bits of tin, plastic, cardboard, and other items to sell to recyclers. Not long ago, a collapse in one of the garbage heaps took the lives of several children. In this community, conditions at home can be so poor that children ask their teachers to take them to the orphanage.
After three days in Guatemala City we traveled to the small highland village of Chontalá. The town was nearly destroyed 20 years ago during the civil war when the army came through attempting to rid the area of guerilla sympathizers. Many women and children escaped into the mountains only to return to smoldering ashes. Years later they have rebuilt their community, led by a women's' weaving cooperative that sells handicrafts to the U.S. through fair trade organizations.
Jennifer learned about history, trade, economics, and politics, but she also gained a new awareness of herself and her role as a citizen of the world.
I learned a lesson about faith, courage, and perseverance that I am incorporating into my personal life. I know the experiences of this trip will help me keep in perspective the challenges life brings me. I also know that what I do impacts others, for better and for worse. This trip was invaluable to my personal growth and development. I traveled with a wonderful team of people, had an extraordinary experience, and gained tremendous insight into an area of the world I previously did not know.Jennifer and the other women who participated in this trip hope to bring back what they learned in a way that can enrich the entire Augsburg community. Watch for upcoming events about their Guatemala experience.For more information about the Hoversten Peace Program in 2010 or about study abroad, go to www.augsburg.edu/augsburgabroad.Photo: Samantha Abrahamson and one of the children from the Ruth & Noemi Project. Submitted by Caren Custer.