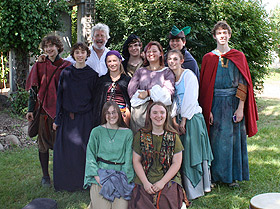 This summer students from around the United States and Canada came to Augsburg College to immerse themselves fully in the Middle Ages during the third annual Medieval Minnesota camp Aug. 10-16. Students learned about different aspects of medieval life through activities like fencing, Renaissance dance, troubadour singing, storytelling, and costume making.
There have been some unique and fun additions to the camp's program this year, explains Phil Adamo, associate professor of History and director of Medieval Studies at Augsburg College. Recently acquired wax replicas of medieval seals were studied by the group. A King Arthur film festival was a big hit. Even a moonlit trip to the new labyrinth on campus, created by Augsburg students this summer, was a wonderful capstone experience for the campers.
As in past years, students worked on a presentation that included music and theater elements that they presented at the opening day of the Renaissance Festival near the end of camp. This year the group performed a medieval tune with original lyrics and instrumentation provided by several of the campers. An original play focusing on King Arthur brought the production to its finale.
Professor Merilee Klemp of the Augsburg Music Department taught music and Augsburg theater alum Sarah Teich '08 taught theater. In addition, Augsburg Medieval Studies majors Bethany Locke and Aidan Nancarrow were camp counselors.
"I loved dance class, but this year I also really enjoyed costuming and the movies. I bought Mists of Avalon. Frankly, I loved the whole camp," said Kayla Fratt, Ashland, Wis., on Medieval Minnesota's Facebook page.
Medieval Minnesota is part of Augsburg's nationally recognized Medieval Studies program. For more information go to www.augsburg.edu/medievalstudies.