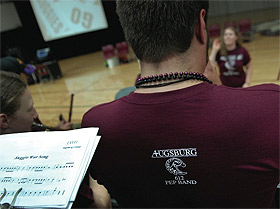 When she arrived at Augsburg last fall, Elisabeth Clemans was disappointed there wasn't a pep band. So she did what any entrepreneurial Auggie would do–she started one herself.
Elisabeth, a social work major from Winona, Minn., was very involved in marching band and pep band in high school and wanted to continue the activity in college. Augsburg had neither, so Elisabeth settled for playing her flute in the concert band. "I didn't have enough contacts my first year to start a pep band," she said, but when she returned to campus in July to work as an orientation leader, she started making calls.
She talked to Bob Stacke, Augsburg's band director, to Paul Grauer, assistant athletic director, and even to head football coach Frank Haege. She had permission, now all she needed was music and musicians.
Elisabeth's high school band director, Tim Gleason, donated the music. "I asked if I should return it when we were done, and he said just to keep it." She then emailed her fellow band members from Augsburg and sent a special invitation to first-year students who had indicated an interest in band or music.
She had permission. She had music. She had musicians. It was time to play.
About 30 people showed up for the first home football game to entertain the crowd under Elisabeth's direction. The band also played at the Homecoming pep rally this week and will be on the sidelines at tomorrow's Homecoming football game. They will continue to play for home football games this fall, and Elisabeth hopes to keep a group together for other sports and activities throughout the year.
"It's been really fun," she said. "I have to give kudos to the band members. They're amazing. The come in good spirits, and they've really made a commitment to this."
Any Augsburg students, staff, or faculty interested in playing with the band are encouraged to email Elisabeth at clemans@augsburg.edu. "You don't have to be in band," she said, "especially if you play low brass. We need low brass."