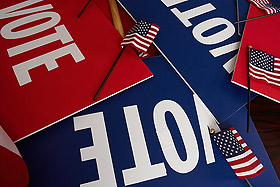 When the Minnesota Legislature reconvenes in early January, four Augsburg College alums–three in the House of Representatives and one in the Senate–will help determine just how the state deals with a budget deficit that will likely be more than $1 billion.
Earlier this month, Augsburg alums Diane Loeffler '75, Larry Hosch '04, and Linda Slocum all won reelection to the house. Because Minnesota senators have four-year terms, Rod Skoe '77 was not up for re-election and is entering the second two years of his term.
Here's a look at the four legislators with Augsburg ties:
Diane Loeffler (DFL-Minneapolis)
Loeffler represents District 59A in Northeast Minneapolis. She earned a BA in social sciences from Augsburg and is entering her third term. Loeffler won her race easily as she received just more than 75 percent of the vote.
Larry Hosch (DFL-St. Joseph)
Hosch represents District 14B in Stearns County. While he did his undergraduate work at St. John's, he earned a master's in Social Work from Augsburg. Hosch returns for his third term after winning more than 67 percent of the vote.
Linda Slocum (DFL-Richfield)
Slocum received 66 percent of the vote in District 63B, which includes part of Richfield and part of Bloomington. A teacher, Slocum was an undergraduate at Simpson College in Iowa and did graduate work in education at Augsburg.
Rod Skoe (DFL-Clearbook)
Skoe, who represents District 2 in Northwestern Minnesota, won't be up for reelection until 2010. He received a BA from Augsburg. Skoe, a farmer, spent two terms in the House before being elected to the Senate for the first time in 2002.
Three others with Augsburg ties were defeated in Minnesota House races. Sandy Wollschlager was the incumbent in District 28A but was defeated by Republican Tim Kelly in a close race. Sharon Lawrence, a DFLer, lost to Tom Hackbarth in District 48A. And current graduate student Eric Franzen lost to the current Speaker of the House, Margaret Anderson Kelliher, in District 60A.