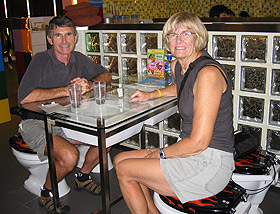 Augsburg College health and physical education associate professor, Joyce Pfaff, and her husband, Doug, are teaching this semester at United International College in Zhuhai, China. Here's an update from her blog.
Teaching at UIC — Nov. 19
I am about half way through my teaching experience at UIC and thought this might be a good time to tell everyone a little bit about teaching Chinese college students. For the most part I find my students at UIC very similar to my students at Augsburg. It took longer for us to get to know each other but the students in my 2 fitness classes are finally beginning to open up a bit and all of us are enjoying the classes more. Some are even beginning to understand my humor and much to my surprise and excitement some are even asking what they can do outside of class to help improve their individual fitness and overall health. One gal asked me if I would have a special session for students who may have questions about nutrition. They are going to write down questions in advance and we are going to discuss them. Although I am very interested in nutrition, I am not sure I have a clue about the ingredients of most Chinese meals…but I'm willing to give it a try. It should be fun.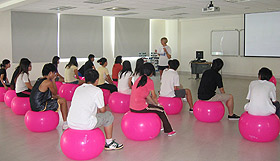 I am running my classes pretty much the same as I did at Augsburg but at a slower pace. Most of my students are female and my 2 classes are 22 and 24 students so they are a nice size. UIC has purchased a lot of fitness equipment so I am hoping my Chinese Teaching Assistant, Jack will be able to teach this class after I leave. For the most part I am finding the students less fit than the students in the US (if you can imagine that). Most of them are not overweight, but they have never had any instruction in what it means to be a physically fit person. Most of their physical education experience has been playing a particular sport or game.
Our time here has been going by very quickly and we continue to enjoy the experience. Doug has been coordinating the Faculty/Staff Fitness program and has 125 members who are exercising on a regular basis and seem to enjoy doing it.
We are going on a hiking adventure to the Tiger Leaping Gorge over Thanksgiving so expect to see a report on this experience in the next blog.