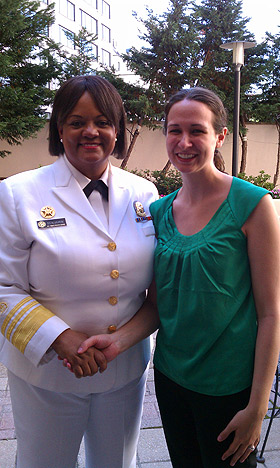 Abby Willaert is using her education to end childhood obesity by educating mothers about nutrition.
Willaert is a third-year student in the physician assistant program at Augsburg. This summer she was selected as one of 50 participants to attend the Paul Ambrose Scholars Symposium presented by the Association for Prevention Teaching and Research. The program brought together leaders representing various areas in health care to help them gain a deeper understanding of the complexities and perspectives of public health and to give them the resources to affect change in their communities.
"Public health has always been an interest of mine," said Willaert, who worked for the Women, Infants, and Children (WIC) program before she went to graduate school. "That's where I got interested in public health and nutrition," she said. She saw the Ambrose program as an opportunity to combine her interests in public health and medicine.
At the symposium, participants learned about the basic principles of public health, healthcare reform, and project planning and management. Willaert said the program is for people who are "coming in fresh with an interest but don't have the tools necessary to create change," so different speakers discussed how their areas of expertise might relate to the participants' final projects. Attendees met together in peer groups to talk about their projects and to get feedback from each other.
Following the symposium, Scholars develop and implement a health promotion or disease prevention project at their institutions or in their communities. Willaert's project is to develop a nutrition curriculum to be use in pre-conception appointments with women at the Family Tree Clinic in St. Paul.
Willaert says her primary area of interest has been childhood obesity, "But we're finding that teaching children about health and nutrition in school isn't enough" she said. "We need to catch the moms to really get to the root of the issue."
Her curriculum teaches women how to read a label, count calories and carbohydrates, keep a food diary, and about portion sizes. It also includes easy ways for women to increase their physical activity. Willaert obtained a micro-grant which she will use to buy pedometers for women at the clinic. "We need to get them started on the 10,000 steps idea, which is huge," she said.
Willaert hopes her curriculum will be helpful to the clinicians and that it can be disseminated to the neighborhood healthcare network for underserved populations in the city. She also wants to develop group classes on topics like healthy eating, weight and weight loss, and possibly to start a walking or running club and develop list of places that are free or low-cost where women can go for exercise. "I want to include many aspects of a healthy lifestyle," Willaert said.
Willaert is pictured here with the Surgeon General, Regina Benjamin, whom she met at the symposium.