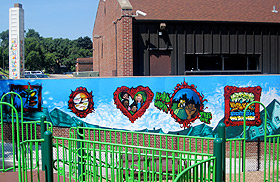 Students from the Jane Addams School for Democracy, a program founded in part by staff from Augsburg's Center for Democracy and Citizenship, have been organizing around issues in their neighborhood—the West Side of St. Paul—for many years. This past year, a group of teens took on the issue of racism, especially as it affects new immigrants in the community. In the process of meeting neighborhood elders and sharing a meal, the youth learned a surprising lesson.
With a grant from the Minnesota Historical Society's Legacy Campaign, the students carried out an intergenerational project to produce a permanent piece of art at the Baker Community Center, home of the Jane Addams School. The students teamed up with youth from the Youth Farm and Market Project and hosted monthly community dinners showcasing traditional foods from cultural groups. The teens cooked the foods with elders from the Hmong, East African, and Latino communities. At these dinners, where roughly 150 community members enjoyed a meal together, the Jane Addams School teens conducted their interviews. The students asked how the elders had made St. Paul their home and what traditions they had kept alive from their home countries.
The teens had expected each culture to be very different from the others, but they were surprised to discover how much each group had in common especially with regard to values. The students learned that no matter where they were born, the elders valued family, tradition, community, hard work, honesty, and cooking and sharing food.
The community members' similarities became the focal point of the students' work. The students wanted the neighborhood to see that by getting to know one another, people would find out that they had more in common with each other than they thought, and they wanted this to be conveyed in the art piece.
The students commissioned Chaka Mkali and Andres Guzman to create a 40-foot mural on a wall that faces Baker's playground. The mural, shown here, can be seen from blocks away and had been a hot spot for graffiti in the past. The mural was completed in two months and is now a beautiful addition to the growing Baker Center.
The teens proudly represented the West Side and their project at this year's PeaceJam in Minneapolis where they presented their project to Costa Rican president and Nobel Peace Prize Laureate, Oscar Arias Sanchez.
The mural is a "Sharing Community Stories' partnership between the Jane Addams School for Democracy, the Youth Farm and Market Project, and the Minnesota Historical Society.
The Baker Community Center is a vibrant cultural learning center on St. Paul's West Side neighborhood. Augsburg students Mallory Carstens and Lexi Stadstad have worked at Baker and the Jane Addams School through the Bonner Leaders program.
Adapted from a story by Caritza Mariani