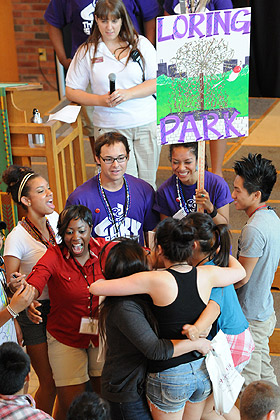 This week the Augsburg College campus will welcome new Auggies and their families to campus for SOAR—student orientation and registration. Members of the class of 2015 will attend this overnight experience to meet each other and learn (almost) everything they need to know before their first day of fall classes. SOAR student and parent sessions are July 22-28.
The student program includes a "town hall" meeting with President Pribbenow, learning about academic success, connecting with campus organizations and academic departments at the "showcase," receiving their fall class schedules, and an introduction to technology resources as well as public safety.
At SOAR, new students connect with orientation leaders, students who will guide them through orientation and serve as peer advisers in their first semester on campus. Students are organized into "neighborhood" groups that meet throughout the two-day orientation and also go on neighborhood excursions to learn about the areas surrounding campus.
SOAR also includes special sessions for parents and guardians. Sally Daniels '79, director of parent and family relations as well as a mom to two Auggie daughters, enjoys helping other parents with the transition to college life. "In my experience, parents come to SOAR to both support their soon-to-be Auggie and to confirm their own decision. The good news here is that's exactly what happens."
Daniels says that at SOAR, parents learn firsthand about Augsburg's strong faculty and staff and come away feeling good about their decision. "The connection parents see in their students from the start of SOAR to the end is really powerful."
Activities and orientation for new students continue with Auggie Days, a series of events held in the week before classes begin. Though some new students will move into the residence halls early, many will make the big move to campus on Saturday, Sept. 3.
Welcome new Auggies and families!
New Auggie Facts and Figures (as of July 18, 2011 – subject to change)
547 students deposited including first-year, international, and Day transfers
42 percent of the incoming class are first generation college students
24.5 percent have participated in a college readiness program like TRiO, Admission Possible, or AVID
325 are from Minnesota with the rest hailing from 18 other states and 6 other countries including Bangladesh, Ethiopia, Germany, Myanmar, Nigeria, and Vietnam
Outside of Minnesota, the state most represented in the incoming class is Wisconsin with 22 students. The next is Florida with 5 students – you missed our Florida-like weather!