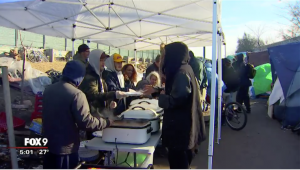 Augsburg University students spent November 17 handing out jackets, blankets, children's toys, and hot lunch to families in need at a homeless encampment near Augsburg. "It's basically in our backyard for our school and I think that helping the community is a really big thing for me," student Tyler Johnson told a reporter. This day of service was initiated by Augsburg student Inam Al-Hammouri, then other students quickly joined, including many members of the men's soccer team.
"Cooking a hot lunch and serving it to hungry families out in the cold is not something most college kids would do on a Saturday, but these youth at Augsburg University are not just your average students," said Fox 9 reporter Christina Palladino. "The students believe it is their responsibility to take action and empower their generation to build bridges to those less fortunate." The students said they plan to organize more days of service, especially now that temperatures are dropping.
See full report at the Fox 9 website.
WCCO also covered the story. See full report at the WCCO website.