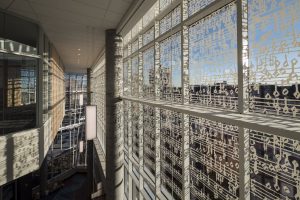 Augsburg University President Paul Pribbenow spoke with Marianne Combs of MPR News about the artwork in the Hagfors Center for Science, Business, and Religion.
Forecast Public Art connected Augsburg with a network of diverse artists, then helped create a selection process that would knit together the different disciplines taught at Augsburg.
"That was important to us because, at this point, Augsburg's undergraduate population is almost 50 percent students of color, and so we want to reflect the communities they come from," Pribbenow said.
During the interview with Combs, Pribbenow also pointed to the art across the glass windows, depicting Martin Luther's handwritten version of 'A Mighty Fortress is Our God.'
See full article and a link to the audio at the MPR News website.
Learn about the artists.