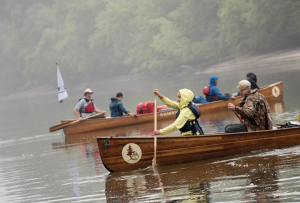 After 100 days of traveling and studying the Mississippi River, students returned to Minnesota on Dec. 2.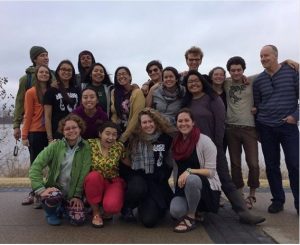 The group had a welcome back celebration on Dec. 6 at Augsburg's Marshall Room. They shared their experiences, showed videos, and even sang. Kristy Ornelas, one of the 15 participating River Semester students, documented the group's semester-long journey is a series of five videos uploaded to her YouTube channel. In these videos, students share their day-to-day life during the second River Semester. The first was in 2015.
"The fact that we've been able to spend 100 days together in a really small tight-knit group is nothing I've ever done and the challenge and rewards of this experience is nothing I could ever imagine," said student Spoir Delmain, in the video titled "What a Wonderful World."
"I think family is the best way to know how to call our group, and I feel that way because we take care of each other in different ways. We've learned how to support each other, cheer each other on, or cry on each other's shoulders," Delmain said.
Watch Kristy Ornelas' River Semester series on her YouTube channel.
Related articles