Written by Dr. Jeremy Myers, Executive Director of Augsburg's Christensen Center for Vocation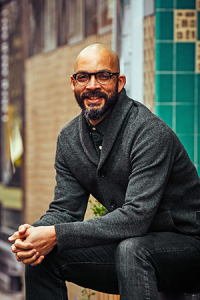 On Tuesday Oct 5, 2021, Dr. Brian Bantum gave a lecture entitled "All Things are New: The Language of Our Life in the Face of Empire" at our 2021 Bernhard M. Christensen Symposium. Dr. Bantum is the Neil F. And Ila A. Fisher Professor of Theology at Garrett-Evangelical Theological Seminary in Chicago, IL. He writes, speaks, and teaches on identity, racial imagination, creating spaces of justice, and the intersection of theology and embodiment for audiences around the United States.
He is a contributing editor of The Christian Century and is the author of "Redeeming Mulatto: A Theology of Race and Christian Hybridity," "The Death of Race: Building a New Christianity in a Racial  World,"  and  "Choosing Us: Marriage and Mutual Flourishing in a World of Difference," which he co-authored with his spouse, Gail Song Bantum. You can view a recording of his talk here.