Jesus can regularly be heard saying "the kin-dom of heaven is like…" and then offering an image, a story, a metaphor to root this vision to a place or experience. It is like a mustard seed, a lost coin, wheat among the weeds, a treasure in clay jars, the leaven that makes bread rise. Kin-dom or reign of God are of course, in themselves a kind of metaphor that reflect the ancient context of their teacher.  These metaphors speak to the audience – an agricultural community of peoples around the turn of the century – as Jesus seeks to stir the people's imagination for the kind of world God desires them to experience and participate in.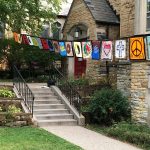 The Riverside Innovation Hub and the congregational partners we've been blessed to learn alongside these past several years, have been about this kin-dom of God work too. I cannot remember ever using this language explicitly with our congregational learning communities. But what we have been talking about and working towards is cultivating more places and relationships that reflect the ways God intends for us to be and be together. We've been chasing after that call, one relationship at a time, one walk through our neighborhoods at a time, one story or surprise at a time. 
Kin-dom metaphors may not quite fit our current context, but the idea of a front porch has caught our imagination as a helpful metaphor to encourage the relationship building work we are trying to be about. Relationships that shape stories that shape neighborhoods that look and feel a little bit more like God's good intentions for a whole, flourishing and connected creation – one neighborhood block at a time. 
On one of these neighborhood blocks – at the corner of Colfax and W 46th St. in south Minneapolis – sits Sts Luke & James Episcopal Church. Also on this corner block exists a front porch of sorts. It wasn't always there, but a few years ago the folks from this congregation began seeking out places to listen to their neighbors and some hints of an invitation began to stir among them. Continue reading "The Kin-dom of Heaven is like a Front Porch By Kristina Frugé " →