Educating Students to Serve
"I think people are interested in what Augsburg is doing to educate students so they can be of ministry in the world," says Martha Gisselquist '86. Her gifts help Augsburg University do just that, while lifting up programs that are dear to her heart: To honor her family's Augsburg legacy and celebrate their shared love of music, she gives for the Clement A. Gisselquist Church Music Endowed Scholarship Fund. Martha, a nurse by training, also generously supports and passionately advocates for Augsburg's nursing outreach programs. "I just want Augsburg students to be successful in their professions and find ways to be of service to the community."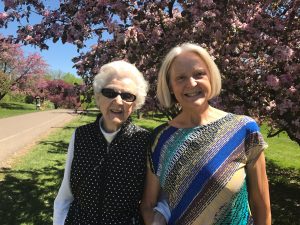 A Musical Legacy
Martha comes from good Auggie stock: Her father, the Rev. Clement A. Gisselquist '41, all five of her siblings, and many other family members attended Augsburg. Her uncle, Orloue Gisselquist attended Augsburg and was a professor of history for three decades. Since 1987, the Gisselquist Fund has provided support to 37 music students, with preference given to students of organ and/or choral music who hope to serve in the ministry of music of the Lutheran Church. "Augsburg was close to [Clement's] heart and we knew that music was something he was always interested in," explained Martha's mother, Borghild Gisslequist, in an Augsburg Now article. "I always wish the scholarships could be more," says Martha, "but every little bit helps as they try to make their tuition."
Nursing students, faculty and alumni serving the community
While the family connection to Augsburg is strong, it was the nursing program in Weekend College (now the Adult Undergraduate Program) that drew Martha to Augsburg as a student in the 1980s. The program offered her a chance to earn a Bachelor of Science in Nursing (which she needed to advance her career) while continuing to work fulltime as a manager with Ebenezer's home care and community service programs.
To Augsburg she brought a passion for nursing outreach that thrived as she became involved in the Nursing Center (now the Augsburg Central Health Commons), which provided students with public health experience and helped meet Minneapolis' growing homeless population's health needs. She went on to graduate with the first Weekend College nursing class. Degree in hand, she continued to advance her career, which culminated in long term care insurance product development with United HealthCare.
"If you've done it unto the least of these, you've done it unto me."
Now retired, Martha volunteers at Health Commons weekly. "There's a lot of counseling, blood pressure checks, wound care, and foot care," she explains. She works alongside Augsburg nursing faculty, students, and alumni, while community volunteers distribute contributed toiletries. She also supports this and other Augsburg community nursing work with gifts to the Nursing Outreach Endowed Fund. The Fund supports programs like Health Commons that provide health care and services to underserved communities, while also providing practicum sites for students.
Recognizing Martha's commitment to nursing outreach, one of her nephews made a gift to the Fund in honor of her birthday. "He just went online and did it," she says. "He knew it was something that I'd really appreciate." Martha hopes that others will join her in supporting experiences that provide nursing students at all levels the opportunity to integrate curricular studies, experiential learning, and service. "The needs are great out there," she reminds us. "If you have the time, abilities and interest, there are so many ways that you can serve and be God's hands."