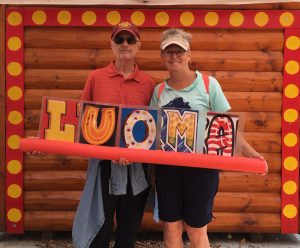 For Gracia '66 and John '65 Luoma, the Augsburg Sesquicentennial marks not only a milestone for the University, but also a time to honor their own family legacy. These frequent donors have decided to celebrate by fully funding the John K. and Gracia Nydahl Luoma Endowed Scholarship with a $100,000 cash gift.
"We wanted to be proactive in our estate planning. We wanted to see the fruits of our legacy before we died," says Gracia, noting how financial help is essential for today's young people. The scholarship will go to an undergraduate student who demonstrates financial need, academic achievement, and a commitment to vocational service, preferably in the Christian ministry, education, psychology, or medical fields.
"Emphasizing vocation for service has always been part of Augsburg's vision," John points out.
And Augsburg, adds Gracia, has long been "the family business, so to speak." Born in Minneapolis to the Nydahl family, she recalls frequent outings to Augsburg events as a young child. Her grandfather Johannes, who emigrated from Norway in 1845, graduated from both Augsburg College and Augsburg Seminary, which he attended from 1883 to 1891. He became a professor of history and Norwegian before becoming Augsburg's head librarian in 1920 and was also a member of the Augsburg Quartette, as was his son, Harold. Johannes and his wife, Tabitha, had six children, all of whom followed his footsteps, as have many other descendants. In fact, Augsburg recognized this "formative family" with a Distinguished Service Award in 2004.
"That I would attend Augsburg was never a question," says Gracia, a math major who forged a career in computer science. Nor was it a question that she, as well as her prospective husband, would rank service high among their career goals. "Even in the business world, you can have a sense of service in vocation. You don't have to be in a formal ministry to serve God and serve Christ," she says.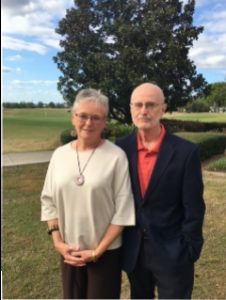 John Luoma, the boy she first met in Luther League and later dated and married while in college, learned of Augsburg through his affiliation with Trinity Lutheran Church. In his quest to become a pastor, he never considered going elsewhere. Fully committed and active on campus, he was elected student body president in his senior year. After receiving his Ph.D. in theology, he served as a college and seminary professor and Lutheran parish pastor for more than 40 years.
"Augsburg was very formative for us in those years. It built on the values we'd had as young people, strengthening them, testing us, and preparing us very well for our vocations," Gracia says.
The couple had two sons, both of whom also chose service vocations. Aaron, who died suddenly from an undiagnosed heart defect in 2015, was an occupational therapy assistant, international traveler, and frequent volunteer who worked with immigrants, refugees, and hospice patients. Jason is a clinical psychologist in Portland, Oregon. Neither had children.
"Our son is fine financially, and we have no grandchildren, which started me thinking: I would like to leave a legacy. Even on my mother's side, there was always a commitment to service for others," says Gracia.
The Luomas raised their family in Connecticut and Ohio before moving to their current residence in Lady Lake, Florida, but they return to Minnesota every summer to escape the heat. Now retired, they are able to visit Augsburg regularly, attending their class reunions and the annual Nydahl cousin reunion, usually timed to coincide with homecoming. They have reacquainted themselves with the current administration and reaffirmed their confidence in Augsburg's vision. While the neighborhood and student population may have changed in recent years, the basic values have not.
"A lot of schools do not bring up their religious connection. I like that Augsburg is still proud of being a Lutheran college without being pushy about it," says John, who has served on the ELCA Board of Education. Adds Gracia: "It has a unique place among Lutheran colleges. It does a lot to reach out to businesses and the community, and to make that connection between education and serving in an urban environment."