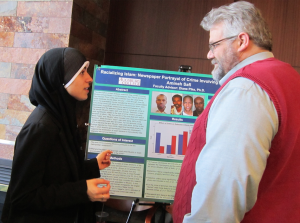 The Office of Undergraduate Research and Graduate Opportunity (URGO) connects students with new and existing summer-long research and scholarship on campus, across the U.S., and internationally. URGO also assists students applying for graduate school, professional school, and national fellowships and scholarships. In 2017–18, 88 students conducted research with a faculty member, 23 of which were sponsored by donors.
Through the URGO office, Augsburg's annual Zyzzogeton Research Symposium on April 15 will showcase the work of over 80 undergraduate researchers in all academic disciplines.
Recent Research from URGO students:
OLIVIA HOUSE '20
Major: Graphic Design Marketing
Research: Exploring design aesthetic of Civil Rights Movement and its influence on current activism design
ZACH JUAIRE '18
Major: Exercise Science
Research: Investigating the relationship between hip mobility and body mechanics of running strike to develop an injury prevention strategy
HOLLY KUNDEL '18
Major: Biology
Research: Studying dragonflies as markers of health of Minnesota lakes, with implications for climate change
LEAH PATRICK '18
Major: Biology
Research: Seeking drought- and insect-resistant genes in wild relatives of barley, with implications for food security and climate change
SKYE RYGH '20
Major: Communication Studies
Research: Analyzing scientific, environmental, and crisis communication used to target Native American residents regarding Line 3 pipeline proposal in Minnesota's Iron Range
Opportunities for URGO research are made possible by the generosity of our donors. Thank you:
Thomas '78 and Julie Bramwell
Linda (Lundeen) '74 and Douglas Dunn
Robert and Jenny Florence
Drs. Karthik and Amit '12 MBA Ghosh
Sharon (Dittbenner) '65 and Richard Klabunde
Bruce '64 and Connie Langager
Steve '72 and Catherine Larson
Terry '73 and Janet Lindstrom
Jean Lingen
Carl Obert '85
SarTec Corporation
D and J Stottrup Education Fund
Leland and Louise Sundet
Dean '81 and Amy Sundquist
Noreen (Walen) '78 and Stephen '78 Thompson
If you are interested in learning more about URGO or would like to make a gift to support undergraduate research, please contact Vice President Heather Riddle at 612-330-1177.