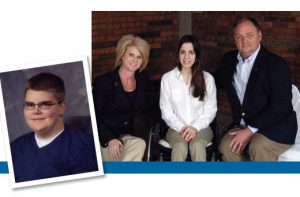 Nathan Schott '13 spent only a short time on campus at Augsburg, but it was both active and memorable. The Maple Grove Senior High School graduate was an avid sports fan and Twins season ticket holder who wanted to major in English and become a sports writer. Because he also had muscular dystrophy and was confined to a wheelchair, one of his counselors recommended Augsburg for its ease and accessibility.
"We hadn't heard too much about Augsburg, so we set up a tour. It was one of the first places we visited, and when we saw what sort of help Nathan would get, we thought this must be the place," his mother, Teri, recalls. Augsburg's CLASS (Center for Learning and Accessible Student Services) program is designed to help those students who need extra help, whether they are coping with autism, ADHD, mental illness, learning disabilities, or a chronic health condition like Nathan's. The services are broad, ranging from securing appropriate accommodations to helping with time management, course selection, and any other challenges that might be better met with individual support.
"On a typical day, I drove him to school and dropped him off, then stayed on campus while he went to classes on his own," Teri says. Nathan made friends. He used underground tunnels to get around. Helpers took notes in his classes and filed them where he could pick them up. The late "Pastor Dave" Wold took Nathan under his wing and made sure there was a parking space behind the church for the family car.
"It seemed like everyone wanted to assist him, and he felt like it was a good place to be," says Nathan's father, Chuck. "It wasn't easy to go into that type of environment with that many students and be accepted for his disability, but he was very comfortable there. He was always eager to get to class in the morning, and he often went back at night for lectures and other functions. He enjoyed it."
During spring break of his first year, however, Nathan, the oldest of the Schotts' three children, contracted pneumonia, from which he never recovered. He died on April 1, 2010. His family received many sympathy notes from Nathan's Augsburg friends and their parents. They grieved, but in their grief, they wanted to do more.
"We wanted to do something to honor Nathan and keep his memory alive," says Teri. "My older sister, Mary Rose, actually got the ball rolling. We had planned a tour of Augsburg, and she set up a meeting with Doug Scott, Augsburg's director of leadership gifts, without telling us." After conferring with Scott, the Schotts decided to establish the Nathan R. Schott Scholarship Fund and donated the initial $25,000 to set it up. Since both Teri and Chuck are the youngest of seven siblings, reaching out to extended family for support made perfect sense.
"We are so pleased that the endowment has now gone over $100,000 and will continue to grow," says Chuck. Designated for CLASS program participants, the scholarship fund has already helped eight students.
The couple, who moved to Hendersonville, Tennessee, two years ago, are grateful for the close connections they maintain with Augsburg. They named their new miniature dachshund puppy Auggie Doggie. They welcomed Scott for a visit to their new city. They have also attended past scholarship luncheons and met with some of the students they have helped.
"Hearing about past scholarship recipients and what they have achieved must give those students such a great feeling and sense of accomplishment," Chuck notes. "For us as donors, it is so rewarding to learn of their successes. To be able to lessen their cost burden by providing financial aid means so much. We are very proud to be able to provide this scholarship to the students."