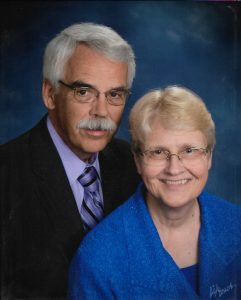 Endowed by two doctors who met in medical school and want to include Augsburg University in their estate plan, the Rachel and Bruce A. Julian Scholarship will help yet another generation of chemistry majors follow their dreams.
Rachel Hendrickson Julian '71 grew up in Clarkfield, a small southwestern Minnesota farming town where her father was the Lutheran minister and her mother an elementary school teacher. Both had attended Gustavus Adolphus College and valued education highly, although their finances could not cover college expenses for five children. Their oldest followed their footsteps, but the other four, including middle child Rachel, chose Augsburg for its more traditional values and culture.
Scholarship support was essential. A chemistry major, Rachel admired the school's top ranking in that field as well as its excellent teachers. One of her favorite professors was Dr. John Holum, who taught chemistry from 1957 until his 1993 retirement and was known for his kindness and generosity as well as teaching excellence and commitment to service. He inspired many, including Rachel's classmate, Peter Agre '70, who later won a Nobel Prize in the field.
But Rachel soon found that one major was not enough. She added music.
"I wanted to go to medical school, but I also starting taking organ lessons. I had played piano since I was 6, and I fell in love with the organ. It was practical, too, since I could earn extra money playing on weekends," she says. "I was very, very busy."
Armed with her double major and again aided by scholarships, Rachel earned her M.D. at Washington University School of Medicine in St. Louis. "My med school preparation at Augsburg was very good. It not only helped me get in, but also prepared me to thrive in that environment," she says. It was there that she met her husband, Bruce, an Indiana native with similar values and background.
"We have always been interested in education," says Bruce, the grandson of a Methodist minister. "My father was an adjunct college professor, and although my mother did not complete college, she was a stickler for grammar and word choice. She used to cringe at newscasters." He notes that Rachel's siblings also "speak fondly and highly of Augsburg, which is literally in the shadow of the University of Minnesota. But any school with a Nobel winner must have something going for it." In addition to Augsburg, the couple will donate to their medical school alma mater as well as Berea College, which serves Appalachia area students and is located near Lexington, Kentucky, where the Julians completed their medical training and practiced for several years.
Affiliated with the University of Alabama Birmingham since 1984, Bruce is a professor emeritus of medicine in nephrology and Rachel an assistant professor of psychiatry. They have four children and four grandchildren. Rachel is also an ordained Methodist minister who serves in the church-sponsored counseling center and still plays the organ, too, monthly at the local Lutheran church and yearly in a family recital that includes her older son on piano, her older daughter on organ, and one of their twins on French horn.
Rachel returns occasionally to Augsburg, such as in 2013, when she served on a science symposium panel. "The campus has changed a lot. Some of my old haunts, like the organ studio, are gone now. But I am amazed at the serious research the students are doing now, and doing very well," she says, recalling her participation in summer research programs. "It goes way beyond anything we could have imagined. It really matters for something."
And for a future chemistry student who needs financial help, the Rachel and Bruce A. Julian Scholarship will really matter, too.