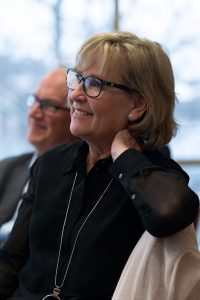 Becky Bjella Nodland '79 was once a young person yearning to put her passion for music into practice but lacking the means to do so. Being able to face and overcome that challenge changed her life, just as she hopes the endowed music scholarship that she and her husband, Jeffrey Nodland '77, are donating will change other young lives.
Growing up in Cedar Rapids, Iowa, Becky was one of the "middle kids" in a family of eight. All were musicians, but college funds were lacking. Without a "great scholarship—all four years" and robust work-study program, Becky, who played string bass and organ and sang in the Augsburg Concert Choir, could not have attended Augsburg at all. She chose the school because it was then one of only two in the country that offered a music therapy program, which intrigued her.
"Augsburg was so innovative that way," she recalls. "But the program was so new that it scared me. I talked to the seniors, and they were not finding jobs. I really needed a job when I graduated, so I switched to music education." Today, of course, music therapy is a vibrant field. "There is a real need for it in the world," Becky adds, although she has no regrets. Music education proved a flexible and rewarding choice; she taught for 10 years before her son was born. She is a choral arranger, organist, and accompanist as well as a music educator, has directed adult and youth church choirs, and currently serves on Augsburg's Music Advisory Council. She has also instilled a love for music in her son and daughter, Emily Nodland '18, an elementary education major.
Her years on campus were a "very positive experience. I made lifelong friends. The professors were incredible and very strong mentors for me," says Becky, citing choir with Leland Sateren, organ with Stephen "Gabe" Gabrielsen, and orchestra with Robert Karlén, all now deceased but renowned for their decades of service to Augsburg's music department. She was also involved in Lutheran Youth Encounter, and, as a freshman, met transfer student Jeffrey Nodland, a junior business major immersed in campus leadership activities. After graduating, Jeff attended night classes to earn his MBA at the University of St. Thomas. He and Becky married in 1980.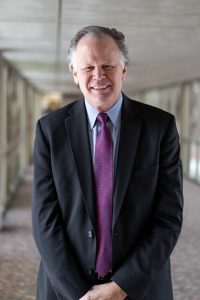 Jeff spent the first 17 years of his career in various management positions with the Valspar Corporation, which transferred the young family out of Minnesota in 1982. He recently retired as the president and CEO of KIK Custom Products (CIP), one of North America's largest manufacturers of national-brand consumer products, such as Johnson & Johnson, Procter & Gamble, and L'Oreal. Although the Nodlands have lived in The Woodlands, Texas, since 2001, Jeff joined the Augsburg Board of Regents in 2010 and is happy to once again be involved with their alma mater.
"I have been extraordinarily impressed with President Paul Pribbenow's leadership and how they have leveraged themselves in the marketplace," Jeff says. Such innovative programs as CLASS (Center for Learning and Accessible Student Services) and StepUP are "very inspiring. It's so great to see the commitment. Paul has done an amazing job."
When the couple began talking about endowing a scholarship, music made perfect sense. "Becky got her music degree at Augsburg, and music is a part of my life, too," says Jeff. Adds Becky: "I am so happy to be able to do it. Hopefully it will help someone else the way someone helped me."