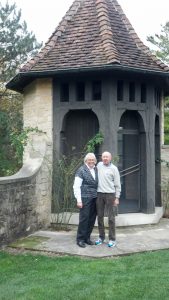 About 25 years ago, young Toby Piper LaBelle '96 had already learned a few things. He'd taken a year off after graduating from Breck School and gone west to teach skiing, which convinced him that he aspired to more than a minimum-wage job.  And he'd spent time in treatment for addiction, which taught him that staying sober was the only way to ensure success in college.
"Toby wanted a local school and chose Augsburg. It was the right place for him. He felt comfortable there," says his mother, Cindy Piper. But he wasn't comfortable sharing a dorm with students who drank alcohol, so he moved into an apartment off campus. Eventually he approached Don Warren, then director of the Academic Skills Center at Augsburg, about the need for a safe, sober place where students in recovery could live and support each other. In 1997, under Warren's direction, the StepUP program was born.
The Piper family have been staunch supporters ever since. Cindy and her husband, Tad Piper, retired CEO and chairman of Piper Jaffray, recently pledged $500,000 to establish the Piper Family Executive Director of Recovery Advancement as well as to inspire others to contribute to the StepUP Program Endowed Fund. "We wanted to give a significant gift to get this program off the ground," Cindy says. They have currently raised $5.2 million toward their $10 million endowment goal.
Thanks in part to Toby's advocacy, StepUP became one of the first residential recovery programs in the nation and continues to be viewed as the gold standard for residential collegiate communities. Six months of recovery is required before students are admitted, and infractions are not tolerated. Today about 90 students are enrolled, and they maintain high abstinence rates and an average GPA of 3.2.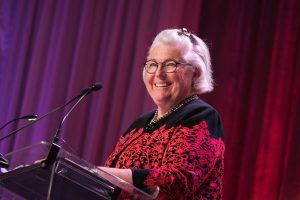 "Addiction is an ugly, cunning, baffling disease. Young people have to make up their minds they don't want to be in it," says Cindy. "I just feel so strongly about recovery for all people, especially young people who want to go to college. Toby's business degree from Augsburg has served him well." Now senior vice president at Northland Securities and a father of three, Toby is former chair of the StepUP Advisory Board and a member of the Augsburg College Board of Regents.
Cindy, who spent nine years as a trustee on the Hazelden Foundation, is now vice-chair of the StepUP board, where she organizes galas that gross half a million dollars a year. "That's an unusual amount of money in recovery organizations. We've been able to add to the endowment through our proceeds," she says. "As my son reminds me, we must keep in mind that we are changing lives. That's the magic of the recovery community."
— Cathy Madison