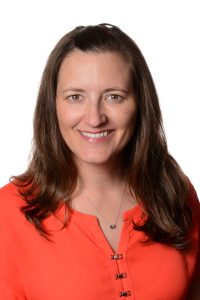 Meredith Wold is a 2007 graduate of the Augsburg PA Program. Since graduating, she has worked with the HealthPartners Hospital Medicine team at Regions Hospital.  While at Regions, Meredith co-founded the HealthPartners Hospital Medicine APC Fellowship program, co-chairs the Regions APC Committee, and serves on the Regions Medical Executive Committee. Additionally, she maintains an adjunct faculty role at Augsburg and is a past president of the Minnesota Academy of Physician Assistants. Last fall, Meredith was promoted to Central Director of APC Fellowships across the HealthPartners system. Shortly after this announcement, we met with Meredith to dive deeper into her experience as a PA.
She was drawn to hospital medicine due to a combination of experiences while on her clinical rotations as well as her desire to have a career that reflected the breadth of what she had learned in PA school. Meredith remembers a specific preceptor at Fairview University Hospital, Dr. Rod McFadden, who was "a wonderful, wonderful hospitalist." She recalls that Dr. McFadden "not only showed me the fun that came with the diverse clinical conditions in hospitalized patients," but also demonstrated the curiosity and commitment that is integral to life-long learning. Meredith recalls, "He would sit down with me every day and deliver bite-sized lectures over lunch. He said it kept him learning, too." After 3 years of PA school and this intriguing inpatient internal medicine rotation, Meredith knew hospital medicine would be a good match for her.
Shortly after entering practice, Meredith had a pull to give back to PA education. The idea of volunteer leadership was demonstrated from the beginning of Meredith's PA education journey. "The folks that gave their non-clinical time to teach while I was a student were really impactful for me." Finding her role in PA education is her way of showing her gratitude to those that came before her and following in their footsteps. Additionally, teaching was an early way in which she developed leadership skills. She is a Past President of the Minnesota Academy of PAs and currently co-chairs the Regions APC Committee. She encourages PAs that are looking to take their practice to the next level to look for opportunities within their own group or reach out to local APC schools and societies. She advises to start small and find opportunities that energize you.
In 2007 the Augsburg PA program was 3 years long and looked a bit different than it does today. The integration of electronics and real time access to a multitude of resources in the classroom is a notable change. However, Meredith believes that the biggest change since she graduated is in the education delivery. "Students are looking for a much more dynamic education delivered to them. Augsburg's response to that has been to include the seminar courses and case-based learning which simulates much more of the thought process during an actual patient encounter," she says. As adjunct faculty, Meredith lectures during the cardiology, GI and renal units. Because of her role as a hospitalist PA, she sees a variety of different patient conditions and often incorporates fun cases into the classroom.
When she is not in the classroom, Meredith routinely precepts students. A benefit of being a preceptor is that "it keeps me on my toes," she says. Since she started 12 years ago, medicine has continued to evolve. She appreciates that these students are fresh from their didactic year and, as a result, are equipped with lots of clinical medicine knowledge. When a student rotates with Meredith, the student chooses a topic that they teach back to her the following day. If you follow the "see one, do one, teach one," method of learning, the student is already into that "teach one" phase and will "inevitably find some of nugget of information that I [may have] forgotten about or describe it in a different way that might make more sense to me." This is a win-win knowledge booster for both the student and Meredith.
Along with teaching PA students both in the classroom at Augsburg and on rotation at Regions, postgraduate APC education has become a passion for Meredith. She and fellow Augsburg University PA classmate Gary Bowrey founded the Hospital Medicine APC Fellowship in 2016 with the goal of providing a structured, comprehensive curriculum that accelerates an APC into a career in hospital medicine. At the time of the program's inception, Regions was growing its Hospital Medicine APC team and needed practice-ready clinicians that could care for the complexities of hospitalized patients. "We had an opportunity, we had a problem to solve." The program has recruited 100% of their fellows and fellowship-trained APCs now make up approximately 20% of the Hospital Medicine APC team.
In her new role as Central Director, Meredith is overseeing all APC Fellowships within the HealthPartners system. Currently Regions has three APC Fellowship programs: psychiatry (also started by an Augsburg Class of 2007 alumnus, Tracy Keizer), emergency medicine, and hospital medicine. Meredith says that "HealthPartners as a system is looking at fellowships to aid in workforce development. We hope to turn APC students into fellows and then retain them as long term employees." She's excited that later this year HealthPartners will accept its first primary care APC Fellows and anticipates its first orthopedic APC Fellows early 2021.