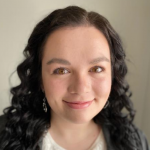 The Augsburg PA Program is proud to recognize four winners of this year's Alne-Swensen Scholarship! Megan Knoll, Class of 2022, and Merari Morales Rosales, Nicholas Becker, and Taneasha Muonio, Class of 2021 all won awards. The scholarship fund was established in 1992 to encourage promising health care students and to honor the memory of Trine Swensen.
Megan Knoll, Class of 2022, came to Augsburg with prior healthcare experience in rural South Dakota, where she plans to work again after graduation. She attributes her drive to pursue a PA education in the midst of the COVID-19 pandemic to her joy for medicine. "To say PA school is stressful is an understatement, but even on the toughest of weeks I can pull out my joy for medicine from the endless heap of lecture slides, exams, and student loans. I get to learn and grow and adapt every single day in a field that consistently advances for the good of humanity." Thank you for sharing your joy Megan, and congratulations!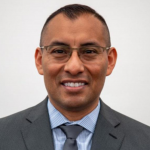 Meraro Morales Rosales, Class of 2021, immigrated to the US at 18 years old. The experience of adapting to a new country and culture – all on his own – fostered in Merari "the grit and discipline [to] succeed as a student." This experience will surely inform Merari's practice as a PA, and benefit his future patients. We are proud to recognize Merari with the Alne-Swensen Scholarship, and with the Dahlberg and Peterson Family Scholarship as well. Congratulations, Merari!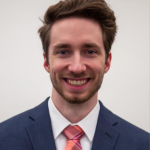 Nicholas Becker, Class of 2021, is a first-generation college student nearing the end of his Physician Assistant studies. Through his health care career as a CNA, Nicholas has demonstrated his willingness to go above and beyond the expectations of his role, to ensure the residents of the nursing home he worked at received quality care. Nicholas is excited to work as a PA because of "the opportunity [PA's have] to collaborate with both healthcare professionals and the patients themselves when it comes to making decisions about their health." We want to congratulate Nicholas on receiving this award, and for nearing the end of PA graduate school as a first-generation college student!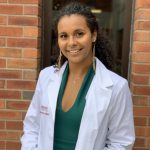 Taneasha Muonio, Class of 2021, completed her undergrad in Biopsychology at Augsburg before enrolling in the graduate PA program. She brings a wealth of vital social work experience to her health care studies. "Providing high quality health care to all is a part of our oath as PA's. That means mastering the medical material we are learning, but also broadening our knowledge of diverse populations, cultures, and experiences." Taneasha is passionate about lessening the documented disparities in treatment and outcomes for patients of color, and we are proud to celebrate her and her mission with this scholarship.
Thank you, family of Ernet and Helen Alne, for supporting our students and honoring the memory of Trine Swenson with this scholarship fund.