Augsburg University's PA Program is proud to announce our latest round of scholarship awards to our first- and second-year cohorts.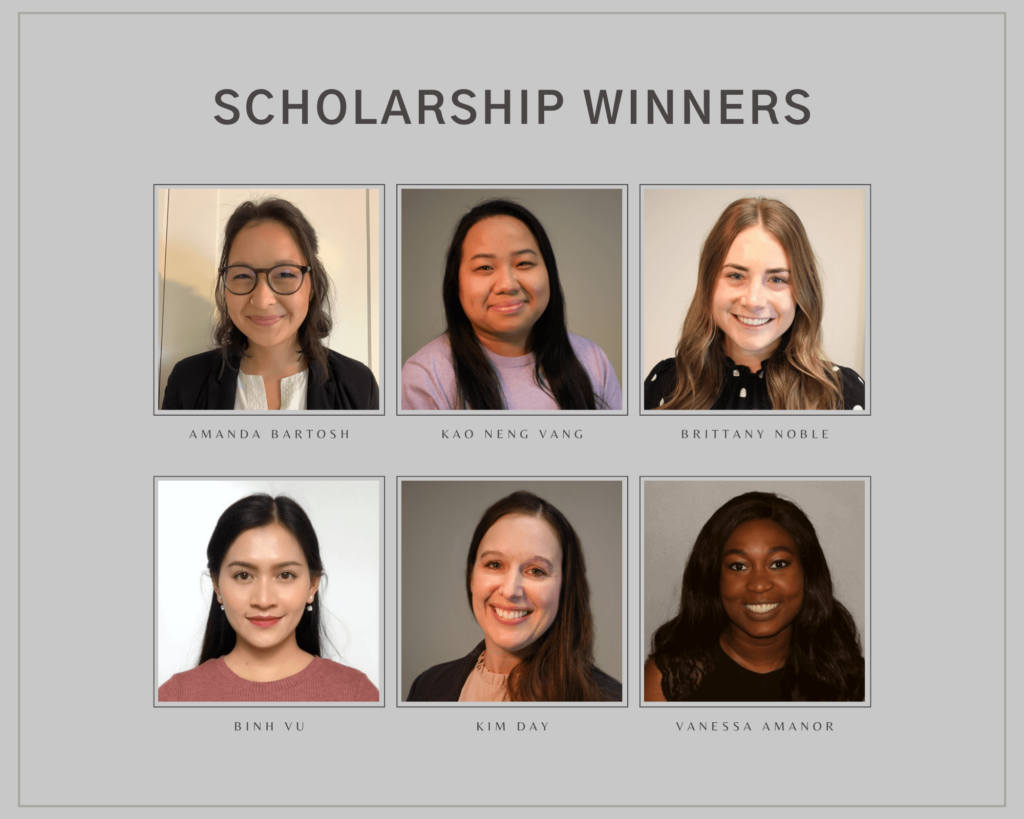 The first scholarship is the Dr Kristofer and Mrs. Bertha E. Hagen Scholarship. Awarded annually to a student who is enrolled in the physician assistant, nursing, pre-medical or other appropriate health care-related program, the scholarship benefits students planning to volunteer or to practice in a Third World country and/or in underserved populations in the United States. Established in 1996 with gifts from the trust estate of the late Mrs. Bertha E. Hagen '28 and her late husband, Dr. Kristofer Hagen '29, as an expression of their dedication to missions." We have chosen Amanda Bartosh, class of 2023 to receive this scholarship. In her time with the program, Amanda has worked hard in the past at refugee camps in Chiangmai, and has continued to put an emphasis on serving underdeveloped and underserved areas. She notes that in her time during clinical rotations in rural areas of Minnesota,
"The providers I worked with used their full scope of practice because of the limited resources. The work was challenging but extremely rewarding. I began picturing myself in their roles and getting excited about my future patient provider relationships and the growth I'd make as a practitioner. I want to serve in an area that truly needs my skills and where I can make the most impact."
---
The second scholarship has allowed us to provide financial aid to multiple students of ours. The Alne-Swensen Scholarship is awarded annually to a student of any academic class who is preparing for a career in health care. Established in 1992 by Ernest and Helen Alne, Hemet, Calif., to encourage promising students and honor the memory of nurse Trine Swensen. We were able to select 4 of our students, Kao Neng Vang, Brittany Noble, Binh Vu, and Kim Day. Among the 4 of them, they have all expressed a desire to provide the best care possible to represent the program.
When thinking of the profession, each student had this to say: Kao would "love to be a provider, an educator, and a friend to those in need." Brittany recalls experiences with past patients and "Whether it be reading Curious George, or honoring the memory of a loved one, as a PA I will empower patients with the comprehensive healthcare needed to do what matters most." Binh discusses the social barriers of patients and commits "my passion for medicine is not only to treat diseases and help people take care of their health, but also to provide affordable care for people with socioeconomic disadvantages." Kim highlights her ability to meet the program's mission and expectations including "taking on the rigor of this fast paced, competitive, and challenging course load, and am proud of myself for being able to not only to meet the expectations of the program and its faculty, but to exceed those expectations and thrive within the high-pressure environment."
---
The final scholarship awarded this time around was the Dahlberg and Peterson Family Scholarship. Awarded to Vanessa Amanor, the Dahlberg and Peterson Family Scholarship will provide encouragement and financial assistance to one or more upper class students preparing for a Christian vocation or for a student in their final years of the Physician Assistant program who plans to work with a multicultural population. Vanessa has has a huge impact on the program to encourage learning diversity from the start, identifying biases, and she goes on to note that during her clinical rotations, "My goal was to provide tools for self-advocacy to communities that often face enormous barriers to medical care for serious conditions, much less routine preventative care."
Congratulations to all of our students who applied and who have received the scholarships! Check out later in the week as we reveal the winners of our Health Equity Scholarships (MDH).