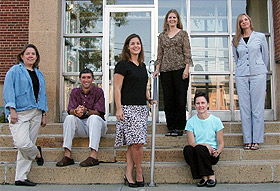 Augsburg's academic advising department has made positive changes that will make student advising more accessible to students. Through correspondence on the Internet, extended window hours, and peer advising, academic advising hopes to reach more students and guide them through all of their academic questions and needs.
"Academic advising is continually adapting how we support students' work with their faculty advisers. We are trying to reach out to our diverse populations using technology. While we value face-to-face interactions with students, we are aware they are not always plausible," said Kelsey Richardson Blackwell, academic adviser.
"Students can contact us though instant messaging by adding augsburgadvising to their AIM, Yahoo, GMail, or MSN accounts," said peer advisor, Cody Warren. "We have also expanded our window hours in the Enrollment Center."
The hours are 9 a.m. to 4:30 p.m., Monday through Friday. "Stop by if you have a question about planning, registration, or anything else that you need help with. We can either assist you or refer you to the correct person or office," said Richardson Blackwell.
Along with instant messaging and longer hours in the Enrollment Center, Warren will be available in Cooper's Coffee Shop in Christensen Center for open advising sessions. "Our peer adviser is trained to help students with planning and registration," said Richardson Blackwell.
Every Tuesday from 3 to 4:30 p.m., Warren will be available to answer "questions regarding registration, planning and selecting a major, and just about anything else regarding advising."
Academic advising hopes that through their initiatives, students will become more informed about their academic decisions.
Students can contact academic advising during Enrollment Center business hours in person, by phone 612-330-1025, or e-mail advising@augsburg.edu.
Article by Kristin Daniels