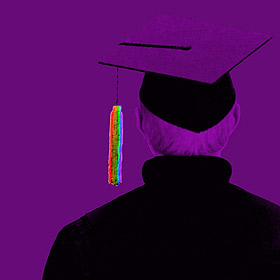 Amid a sea of black caps and gowns, flashes of tasseled color highlight academic achievement or represent the culture of some graduates at Augsburg's commencement exercises. This year, rainbow tassels will add to the assortment as they dangle from the mortarboards of lesbian, gay, bisexual, transgender, questioning, intersex, asexual, and ally students (LGBTQIA). Graduates will receive their polychromatic tassels at Augsburg's first annual Lavender Graduation Celebration to be held later this month.
Will O'Berry, coordinator of LGBTQIA support services, said the members of Queer and Straight in Unity (QSU) wanted to celebrate their accomplishments while honoring the LGBTQIA culture. This led to Lavender Graduation. "It's a way to say that, as a LGBTQIA person, you've achieved graduation and are ready to move on to the next part of your life," he said.
For senior Lauren Back, Lavender Graduation is a very personal event that represents her journey toward acceptance. "I started college in a rural town in Iowa and was only truly comfortable with myself and able to come out as a lesbian well after I transferred Augsburg," she said. "Lavender graduation signifies the steps I took to get to that point of being proud of who I am and proud to work for change and progress in the LGBTQIA community."
LGBTQIA graduates will be joined at the ceremony by their allies — those who do not necessarily identify as LGBTQIA but support them. O'Berry said, "One of the unique things about Augsburg is the strong ally community, so we are folding them into the celebration."
Teresa Barnhill, an ally with QSU, is eager to celebrate with her friends. She said, "I'm feeling particularly honored because I have been invited to participate. Allies sometimes face discrimination or criticisms fighting for LGBTQIA rights and standing up to hurtful actions. For a small school like Augsburg, a ceremony like this is pretty rare, and I'm really excited to see it happening."
Lavender Graduation was started by Ronnie Sanlo in 1995 when she was director of the LGBT campus resource center the University of Michigan. Augsburg's inaugural Lavender celebration will be held on Wednesday, April 23 at 7 p.m. in Oren Gateway Center. Contact Will O'Berry, lgbtqia@augsburg.edu, to RSVP or with questions.