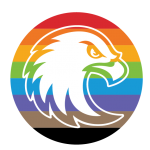 Augsburg University has been named one of the top 30 colleges and universities for LGBTQ+ students, according to Campus Pride, the leading national organization dedicated to building future LGBTQ and ally leaders and creating safer communities at colleges and universities. Augsburg is the only institution from Minnesota to receive Campus Pride's Best of the Best recognition in 2023.
"Earning a spot on Campus Pride's Best of the Best list recognizes an institution's efforts to create a safe and welcoming campus for their LGBTQ+ students, staff and faculty," said Campus Pride Founder, CEO and Executive Director Shane Mendez Windmeyer. "In the current climate, in which LGBTQ+ identities have become political talking points and laws are being weaponized against LGBTQ+ people, the commitment to creating campuses that welcome and protect LGBTQ+ students can not be taken for granted. The colleges and universities that made our list this year deserve this recognition for the efforts they have made and continue to make."
Augsburg's Lesbian, Gay, Bisexual, Transgender, Queer, Intersex, and Asexual (LGBTQIA+) Student Services office works to improve the campus environment for all students, staff, faculty, and visitors by developing and supporting inclusive understandings of gender and sexuality. Activities include:
Advising, advocacy, mentorship, and support for LGBTQIA+ -identified students;
Development of student knowledge and leadership skills;
Promoting awareness and visibility for the LGBTQIA+ community on campus;
Providing networking and social opportunities for the LGBTQIA+ and allied campus community;
Training students, staff, and faculty about gender and sexual equity to foster a welcoming and inclusive environment;
Advocating for change in policies, practices, and procedures across the campus to be more equitable to LGBTQIA individuals.
Two LGBTQIA+ student organizations, Queer Pride Alliance and Queer Indigenous People of Color, host a number of events for the Augsburg community throughout the year. At the annual Lavender Celebration, graduating LGBTQIA+ and ally students are honored with a rainbow cord to wear at commencement, and the community recognizes outstanding individuals for their work and contributions for queer and trans students at Augsburg.
Campus Pride's 2023 Best of the Best LGBTQ-friendly list includes 30 four-year public and private colleges and universities from around the country. Each institution achieved 5 out of 5 stars and the highest percentage scores on the Campus Pride Index (CPI), the premier national benchmarking tool measuring LGBTQ-friendly policies, programs, and practices on college and university campuses. The Campus Pride Index rates colleges and universities based on self-reporting of LGBTQ-friendly policies, programs and practices, such as non-discrimination statements inclusive of sexual orientation and gender identity/expression, gender affirming health care, LGBTQ+ peer mentorship programs, campus safety training on sexual orientation and gender identity, LGBTQ-specific major and course offerings, and the presence of LGBTQ & ally student and faculty organizations. The full Campus Pride 2023 Best of the Best list is available online at CampusPride.org/BestoftheBest.
Learn more about programming and support resources available through Augsburg's LGBTQIA+ Student Services.