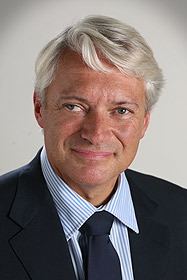 On Wednesday, Ambassador Wegger Chr. Strommen will make his first visit to Augsburg College, where at least four generations of Norwegian-Americans who share the Strommen name have graduated.
After touring campus, Strommen will present a talk at 2 p.m., "Norway and United States in the 21st Century," in the Christensen Center Student Art Gallery.
With a background in law, Strommen has practiced in that field both as an attorney and a judge. For the past 7 years, he has represented his country in various posts at the United Nations. He was appointed as Norway's ambassador to the U.S. in October 2007.
His visit to Augsburg occurs in the middle of a 5-day tour of the Midwest to visit historical, cultural and educational institutions with Norwegian heritage. The purpose of the visit is "to discuss how to continue to cultivate the strong bonds that exist between Norway and the Midwest," according to the Royal Norwegian Embassy.
In the Twin Cities, Strommen will meet with Governor Tim Pawlenty and former Vice President Walter Mondale, who will become the honorary consul general of Norway in Minnesota this summer when the official Norwegian Consulate General closes.
Strommen's Midwest visit includes stops at all five colleges of Norwegian heritage that sponsor the Nobel Peace Prize Forum — Augsburg, Augustana College (Sioux Falls, S.D.), Concordia College (Moorhead, Minn.), Luther College, and St. Olaf College.
Photo courtesy of the Royal Norwegian Embassy.