Personal and public. Creative and practical. Forward-thinking and backward-knowing. By sponsoring "Both/and," a custom glass art treatment for the skyway that links the library to the Hagfors Center for Science, Business, and Religion, Karolynn Lestrud '68 supports artist Teri Kwant's effort to bridge disparate disciplines both figuratively and literally.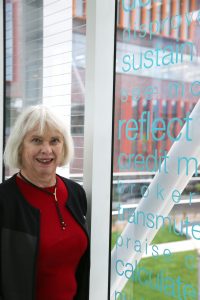 Kwant's art will illustrate the transitional space by etching pairs of words from different disciplines into the glass of the skyway. Think: define divinity, probe force, radiate support, love density. When Lestrud, an English major who did graduate work in linguistics and considers word play a part of her life, first saw the proposal, she thought, "Fantastic! But then I started puzzling over the pairs that didn't make sense—and thought aha! She got me! She made me ponder," says Lestrud. "I hope students will react the same way, with their curiosity piqued as they stroll through. I wonder if they will write about their experiences, walking through this walkway of words."
Words on the skyway windows will also make the glass visible to birds, so they don't "smack themselves silly on the glass. I thought this was a brilliant solution to a real concern, and a very thought-provoking piece as well," she adds.
Lestrud lauds the selection process, too. A resident of Steamboat Springs, Colorado, she volunteers for and supports various art groups, including those charged with choosing art for public spaces. "It's such an interesting process, because you have people who know nothing about art but 'know what they like.' It's hard to set up guidelines when you hear commentary like that," she points out. "Many people want to go for something very representational, very safe, and in many cases, very uninteresting. But that didn't happen on this committee."
She served on Augsburg's Art and Identity committee, which began discussing art when the Hagfors Center was "still a dream on paper," working with architects to identify where artwork should go, what size it should be, and how it should be lit. "Ninety-nine percent of the time, people wait until the structure is inhabited before they start embellishing it," she explains. "We seem to have an innate yearning to embellish our surroundings. The earliest people did cave drawings. The Victorians had every surface covered with doodads. So we're following a very natural impulse, and I think it's wonderful that Augsburg made the commitment to do this in a well-thought-out and big way."
Once locations were selected and artist proposals solicited, committee members met with artists individually to field questions and fuel the creative mission through a deeper understanding of the building in particular and Augsburg in general. "That was also interesting and not always something that happens in the broader world," Lestrud says. She was delighted to chat with Kwant, a public artist, director of RSP Dreambox, and frequent lecturer on experience design, environments, and communications for the U. of Minnesota School of Design and the Minneapolis College of Art and Design. Kwant will also create one-of-a-kind glassed-topped tables that are available for sponsorship.
Lestrud contrasts the Hagfors Center with the boxy, cement block structure of the old science hall. "When you walked in, all you wanted to do was get out again," she remembers. "The art going into this new building will make it the kind of place that will inspire students, give them a mental break, and, I believe, encourage them to linger."