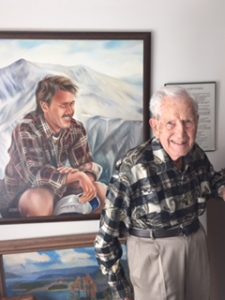 Merton Strommen's fourth-floor apartment offers a glimpse of his long life. In a corner of the living room is a Steinway, an impulse buy from decades back that the 98-year-old still plays daily. Artifacts from Norway commingle with books. Framed landscapes mix with family portraits on the walls. Clearly, he's lived a life of music, travel, scholarship, family, and faith. Yet unless you ask about the large painting of the handsome young blond man gazing out over the mountains, you might miss that his life has included tragedy.
The painting is of David, the youngest of Strommen's five sons, who in 1985 was struck by lightning while leading a youth group in the Colorado Rockies. David's death catapulted Strommen and his wife, Irene, into a grief that included a strong desire that something meaningful come out of their loss.
They wanted to further the work that their son, a seminarian with a passion for youth, had been pursuing when he died. As both husband and wife had attended Augsburg and sent their five sons there as well, they decided to support training in youth and family ministry at Augsburg. As Merton Strommen put it in Five Cries of Grief, a book he co-wrote with Irene, he could envision "a thousand young men and women taking Dave's place in a congregation's youth and family ministry."
Fundraising began with the 1985 Twin Cities Marathon, as David's brothers and friends solicited pledges and ran in his place. In 1986, with support from family and friends, the Strommens established the David Huglen Strommen Endowment to support program and faculty development, and scholarships. The fund later grew dramatically with a large gift from Thrivent Financial (then called Lutheran Brotherhood). Today, the endowment is valued at more than $800,000.
A scholarly approach
The fact that youth ministry exists as a field of study and a career option is in large part the work of the elder Strommen, who in the 1940s when he was a young seminarian and pastor noted how little was being done in the church for teenagers. "There were pastors who believed that God's intent was that young people would come to faith primarily by preaching alone," he says. "I thought, My gosh, this isn't responding to where kids are at." Strommen's idea was to allow youth to ask questions about the faith, build relationships with adults and each other, and have fun.
Although Strommen decided to pursue graduate study at the University of Minnesota in educational psychology, his interest in youth ministry didn't wane. In fact, he decided to make it the focus of his scholarship. His dissertation, a national study of 192 congregations, explored fundamental questions that had never been answered: What did young people need? What did they want?  What did pastors and lay adults think youth needed? His study yielded an important finding. Adults had little understanding of where their youth needed help. Moreover, youth weren't taking away from the church the most fundamental truths about God's grace and forgiveness.
There was much more to learn. Strommen founded the Search Institute in 1958, which pioneered the use of social science research to understand young people. Over the years, he was involved in large-scale studies, many of which laid the foundation for youth and family ministry approaches used congregations in major denominations and in seminary and college training, including that offered by Augsburg.
The ongoing impact
For two decades, Augsburg offered a Bachelor of Arts degree in Youth and Family Ministry. And students like 2016-17 Strommen scholarship recipient Leah McDougall graduated with a major in Youth and Family Ministry. Beginning in 2017, students interested in youth and family ministry enroll in the new Theology of Public Ministry major and opt for a youth studies minor. "Students who sign up for such a curriculum receive essentially the same education and experience offered under the older Youth and Family Ministry program," says Hans Wiersma, a religion professor long involved with the programs.
Wiersma says an important part of each student's course of study is "discerning the nature of God's call for their lives." Some, he says, go directly from Augsburg to a congregation. Some do service through organizations such as Lutheran Volunteer Corps or go to seminary, and some work in public schools or youth service organizations.
At nearly 100 years of age, Strommen remains keenly interested in youth ministry. He's concerned that not enough are learning that faith is life-changing. "What disappoints me is that there hasn't been a focus in so many congregations on a personal relationship with Jesus Christ," he says. And he'd just love, if he could, to do one more national study, to demonstrate the effectiveness of the peer ministry approach.
He's pleased with what he's accomplished. "When I start talking [about my life], I get excited, I get awed," he says. He knows that he has made a tremendous impact on the field of youth ministry. For indeed, a thousand young people are now taking David's place.
By Carmen Peota.