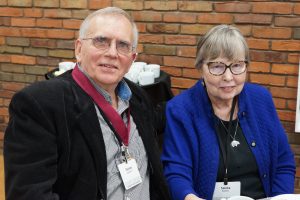 Steve '67 B.A. and Sandy Batalden say they were attracted to the "Art and Identity" project when they saw the "stunning" work of Amy Rice. Rice's series, Six Minnesota Wildflowers to Meet and Know, was commissioned by Augsburg University for the Hagfors Center for Science, Business, and Religion. "We immediately liked her work," explains Sandy, who shares with Rice an appreciation for letterpress printing, which is featured in the works. "Not only is she using original materials in her paintings, but the unusual botanical subject matter seems to fit perfectly in a building intended for the life sciences." In a recent donor statement, the Bataldens wrote that "beyond botanical accuracy, Amy's drawings transport us into an entirely new realm as leaves and flowers become frames for musical scores or other chosen text woven into each piece. What a creative, beautiful expression for the university of the twenty-first century!"
Art and Identity
In her artist's statement, Rice explains that she began her process by hand-drawing and hand-cutting stencils of rare Minnesota plants. "The plants are 'painted' in with a variety of antique and vintage paper: maps and plat books of Minnesota counties (I only used maps from counties where the plants are actually found), Norwegian-language liturgy from the 1870s, sheet music, handwritten letters from early Minnesotans, homework, biology textbooks and early Augsburg ephemera." She notes that her interest in native plants connects to her Christian faith tradition. "It is the sacred trust we have been given to be stewards of our Earth. My Grandpa Ed, a seventh generation Midwestern farmer, knew the names of every plant on his large farm. He didn't own them; he was responsible for them." That, she wrote, was one way he modeled faith in action.
Beauty and Inspiration
Steve notes that the timeliness of the "Art and Identity" project captured his own and Sandy's imagination. "We are living in a deeply troublesome and dangerous Trump era when, especially here in the Arizona southwest, walls are political symbols meant to divide sharply and impose barriers. What a wonderful idea for Hagfors Center to refashion walls as settings for beauty and inspiration!"
Augsburg commissioned Six Minnesota Wildflowers and works by other artists to express its core identity, grounded in durable faith, inclusion, and experiential learning. "Great universities manage to nurture creative artistic production alongside scientific discovery," say the Bataldens, who have spent their careers in higher education. Steve is professor emeritus of Russian history and founding director of the Melikian Center for Russian, Eurasian, and East European Studies at Arizona State University. Sandy is a retired university librarian, bibliographer, and scholarly book editor.